Took a wee jaunt into the Sperrins .They are on my back door  and I should be using them more often
Start Point         GR 707003
Finish Point      GR 707003
Distance            6.07 mile
Time Taken       4 HRs with lunch
Map Used           Sperrins  Activity Map 1:25,000
Route Shape      Circular
This route covers quite a lot of open mountain with some steep sections and it is advisable to have  eperience.As always appropriate clothing should be worn .Waterproofs and boots are essential as the terrain is mixture  and is wet under foot in a lot of places.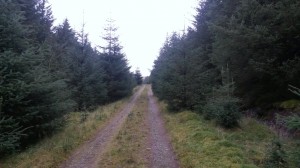 Looking up from Bridge
We parked the car at Glendera Bridge and headed up the forest path towards the Summit. You will come to a junction GR 94993 take the right turn  and approx 100 m  a clearing appears to you left  . This is the start of the ascent acoss open mountain . It is wet under foot and I would recommend good boots and gaiters .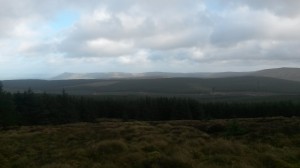 Looking back you can see some of the spectacular views this walk gives you . In the far distance is Bineneveagh  and the nearer mountain range is Benbradagh. Continue to the summit which is where the fence lines meet and a old Londondery Corporation  headstone is visible. Navigation is quite easy from now on as you follow the fence line to Oughtmore (569m).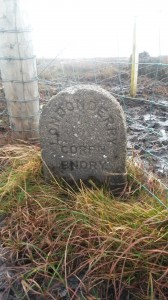 As you continue towards Oughtmore the walk becomes quite steep ther are quite a lot of Peat banks and bog pools so take caution.The walk towards Spelhoagh (568m) is realtively flat . Once on Spelhoagh head down towards the furthest corner off the forest and follow the tree line  keeping it to your left from here you will see your start point .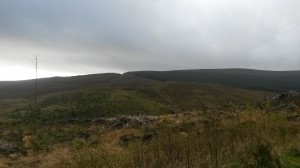 SPELHOAGH GAP looking up from the finish point .