From word of mouth I was aware that there were structures of some sort on the Annalong Valley slopes of Slieve Binnian but I had never seen any solid information describing them. Still, the thought of people erecting buildings on the side of a mountain intrigued me and I reckoned it warranted some investigation. From the numerous paths marked out on the OS map it was clear that something was there and I was fairly sure it would be the similar to the StoneMasons Hut on Slieve Meelmore but only a day in the hills could satisfy my curiosity.
Under grey skies on a chilly October morning we left Carrick Little Car Park on the Head Road (link) and wandered up the lane to meet the gated Mourne Wall at the foot of the Annalong Valley. I had been up the Valley dozens of times but on this occasion I made a point of examining Binnian from a distance to see if I could make out anything in the area that we were headed for. As it turns out, as you can see below, rough stone piles are visible from the lane if you know what you are looking for, although without binoculars you can make out no details.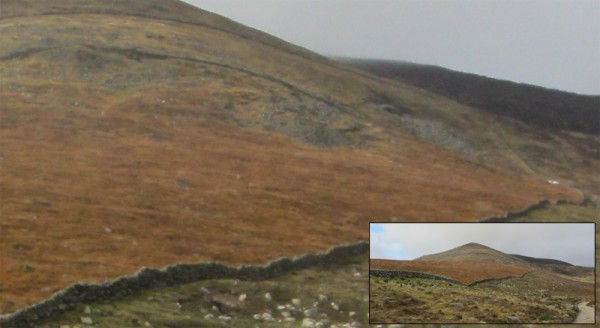 Over the last couple of years Slieve Binnian has seen some significant work to create a path from the valley to the summit and then on between the two summit tors. This makes ascending Binnian a much easier task at the same time as cutting down on erosion caused by eager walkers. The going is still steep enough but it didn't take us long to reach the spot where a dry stone wall whose ownership or meaning has long been lost bisects the Mourne Wall, and a few missing rocks made it easy to clamber over to the other side. Beyond this it got fairly boggy but by sticking close to the wall it was dry enough and after a short walk we reached an area crossed by numerous paths and littered with piles of rock.
We made a beeline for the nearest structure to stop for lunch and hot coffee. It was three simple walls finishing above head height with a small gap to enter through. Inside there was enough room for 3 to stand but it didn't look big enough for anything but some basic shelter from the elements. We also couldn't tell if it ever had a roof.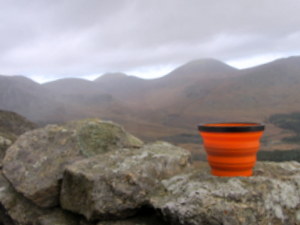 With some classic Northern Ireland meteorological bad timing the clouds suddenly rolled in and the rain came on cutting short our plans to explore further. That said, it was obvious we were only at the edge of the area and looking up the mountain we could see more structures, piles of stone and paths so this was just the tip of the iceberg.
I'm not sure what these structures were for. I'd hazard a guess that it was just for shelter for the men working on the wall and when you're already spending your day cutting stone then maybe knocking up a few shelters is time well spent, especially when your workday is entirely on the side of an exposed mountain!
If anyone can provide any further information on the history of this area or what the structures were designed for we would love to hear. Either way, I would definitely intend to head back – the area didn't seem to have much space that you could camp on but definitely warrants at least another afternoon explore.
Here are some photos from the hike.