I was over on Rathlin Island last weekend. Having the family in tow meant civilised accommodation in the Manor House rather than a bivi in the heather.  

I've been over several times before and have walked the whole of the northern clifftop. Unfortunately, walking access is still a problem over there with numerous barbed wire and electric fences to negotiate along the route. I hope one day to see a designated route from the east light to the west light with stiles along the way to help walkers. The new shorter loops that have recently been established are a great start (e.g the Roonavoolin walk) but a long clifftop route could potentially be a walking jewel for the island.

I managed to take this new photograph of the cliffs on my visit. Taken at sunset from the old coastguard lookout at Ballyconagan. This view shows approx 1/3 of the route between the east and west lighthouses.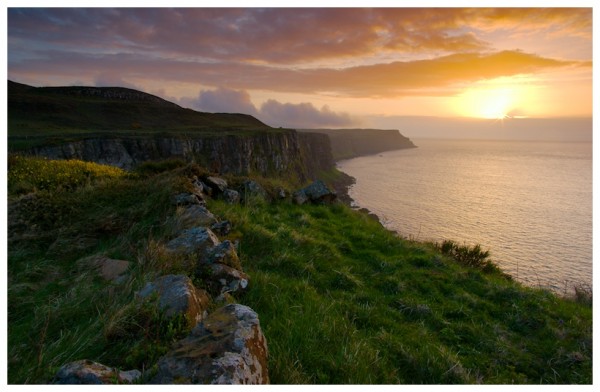 Original post is here. With thanks to Andy McInroy.
You can see and buy Andy's photographs here.