Link to a more detailed route description
http://www.walkni.com/walks/186/causeway-coast-way/
Wife and I decided to walk the Causeway Coast way taking in a wild camp we started aFrom Ballycastle and walked towards the
Wife and I decided to walk the Causeway Coast way taking in a wild camp we started from Ballycastle and walked towards Portrush
https://www.flickr.com/photos/123540442@N04/sets/72157644311777072/
We took enough for two days hiking .
Used the Causeway coast and Rathlin Island OS Activity map.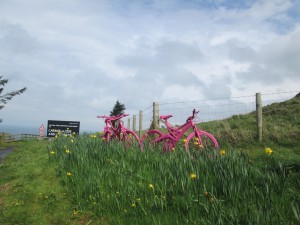 Day One. We left Ballycastle around    11:00am , a bit of drizzle ,leaving our vehicle  safe in Portrush. There are buses but check  timings not too many from Portrush till the  peak season starts.
Ballycastle to Carrick-a Rede Rope Bridge is  all by Road with no footpath.There is a section which is down a country lane which breaks up the  monotony of the tarmac .There are a few wee treasures to discover on the route like the Wood sculptures at a Maghralough B&B ,restaurant .There are also camping facilities here.
Carrick-a Rede Rope Bridge has good facilities again seasonal so check timings . Two coffees and a sandwich £7.50 …sandwich fed two
From now on in is coastal with great paths allowing a comfortable walk. On getting to White Park Bay its essential you check High tide as you will not be able to cross choice to divert or wait. There is a bit of a scramble either end of the beach..at the end of the beach is Port Bradden  quaint cottages is all to see and the small Church.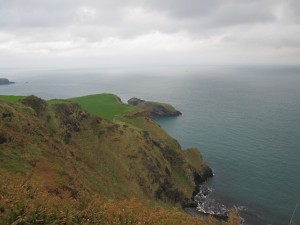 It was at this point we seen the signs for diversion due to a path closure following a part of the path collapsing. Disclaimer . We ignored it and followed the path on round. It is passable but care should be taken. This led us into Dunseverick which has toilet facilities  which a code is required to gain entry .Obtained from the National Trust as they own it.
We walked a further 2 kms to Geeragh Point where we set up camp for the evening this was around 5 pm. It looked over to the Bothy at Port Moon . You can avail of the Bothy but you have to join  which is a £10.00 joining fee  and a further £5.00 every visit after.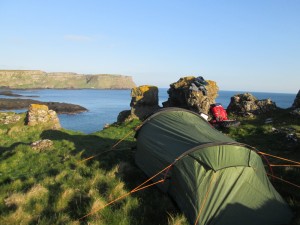 Day 2 We struck camp and were moving around 9:00 am . All good paths and spectacular scenery heading towards The Giants Causeway.You can go down the Shepherds Steps and walk along the bottom. I prefer the height …you see more
Facilities at the Causeway are fine if you pay . Free toilets are modern and topping up water etc is hard. Try the Hotel .Continuation  of the paths  leads you into Portballintae .Small shop and toilet facilities available( seasonal)/
Back on the road to Whiterocks Beach and into the two Ports.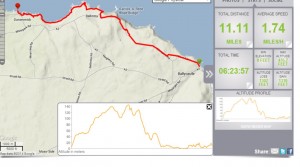 Quite a trek as we finished around 5 .
I used Viewranger but unfortunatly my battery died at Portballintrae on the way out .So add another 5 miles to this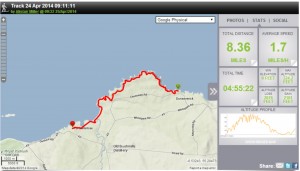 I havent posted photos just the link to the album feel free to ask