So I thought that I'd give winter wild camping a go, I had my reservations about it as my sleeping bag and tent are only rated 3 season and all of my previous wild camping trips had been in the warmer months.
We arrived at Carrick-Little and parked at the upper car park (£5 per night), apparently it has "secure" overnight parking, the security being a dog, no CCTV that I could see of. After the short hike along Annalong Valley we set up camp at the top end of Annalong wood about 400m from the path (grid ref 339 245).
I had a 3 man tent (Coleman Cobra 3) with me, I know, a bit of an overkill for solo camping and it was blue, so didn't blend in very well, but at least I had plenty of room. After setting up my tent I put on the floor a large padded space blanket to reflect heat back and then put my Mat (Exped SynMat Ultralite 7) and Sleeping bag (Snugpak Chrysalis 3) on top giving it plenty of time to loft.
My friend had just a hammock and fly sheet, too hardcore for me, but then he's camped in the Himalayas before so shouldn't be a problem for him. We had a couple of hours of light remaining after setting up camp, so we decided that we would climb the nearby Rocky Mountain.
After climbing Rocky Mountain we returned back to our camp site and started gathering wood for the camp fire which did a really good job keeping me warm, next I cooked dinner on my gas stove which was Penne Pasta with sliced Mattessons Pre-Cooked Smoked Pork Sausage, lots of Grated Mature Cheese and a large dash of Tomato Puree. It was very tasty and beats my usual pot noodle, it was perfect food for keeping warm during the night because of its high fat content to burn off.
Finally I got into my tent and ready for bed (the part I was dreading the most, was I going to freeze to death? Who knows), the temperature in the tent when I checked was a toasty 3 degrees at 11pm (probably even lower during the night), so I put on my merino wool base layer, merino wool socks, a lightweight down jacket, hat and neck gaiter then filled a mini hot water bottle and got into my sleeping bag, ok, so now I'm too warm and had to take of my down jacket. It wasn't until around 5am that I felt a bit cold, so boiled some water to refilled my mini hot water bottle, which kept me warm until I got up at around 8am.
Breakfast was Crumpets and Poached Eggs with Azera instant coffee, ok its not my usual fresh coffee, but quite nice for instant coffee. I usually bring Lyons Coffee Bags for camping (fresh ground coffee in a tea bag), but unfortunately my local Tesco didn't have them. After breaky it was time to pack up and head home.
Overall a very pleasant experience and no worse in terms of warmth and comfort than summer wild camping despite the near freezing temps outside.
View from Rocky Mountain

Camp

Tent temperature at 11pm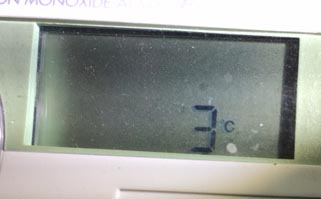 Breakfast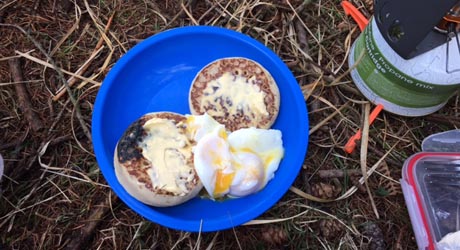 View in the Morning

Original link here
With thanks to DavidDoyle