I was in Killarney for a few days on a family holiday and my wife suggested we stay an extra night, hmmm, I thought, I hadn't time to sneak off to the mountains before but this could give me the perfect opportunity, and guess what, I just happened to have all my camping gear in the back of the car ::)
So on Friday evening I set off alone from my warm cosy comfortable hotel, leaving the sauna and jacuzzi behind, in search of one of the most inhospitable places in Ireland. My starting point was Cronin's Yard, only 2 euro to park there overnight, similar facilities to our own Meelmore Lodge. Arrived at 6pm (after a wee detour to the Gap of Dunloe to visit Kate Kearneys Cottage) only to be greated by rain, hung about for a while, chatted to a few walkers about the route, then donned waterproofs and started walking. Looked back at the car to find I had left the boot door wide open :-[ . Locked car again and off I went, then the rain stopped 🙂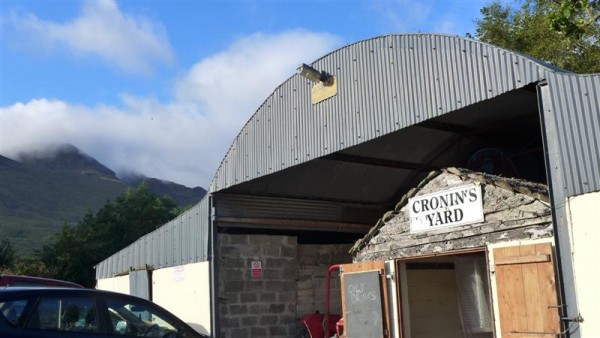 I had read a few guides on route choice, the devils ladder seemed to be the most popular tourist route, but it was steep and had many hazards. There was a longer route known as the zig zags which was safer. O'Shea's gully looked most interesting but possibly easier to get wrong if visibility was poor. I decided I would chose the route as I walked.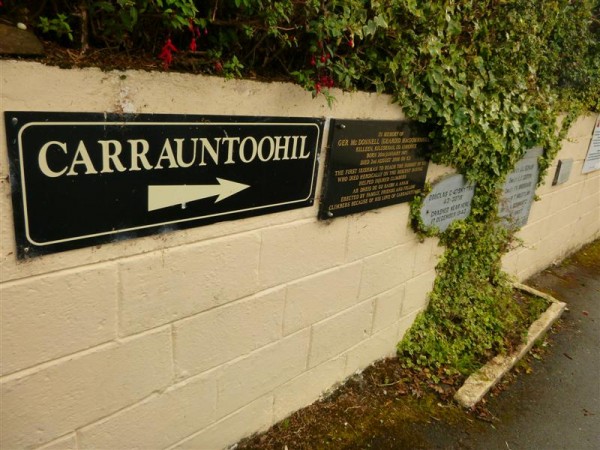 Leaving Cronin's Yard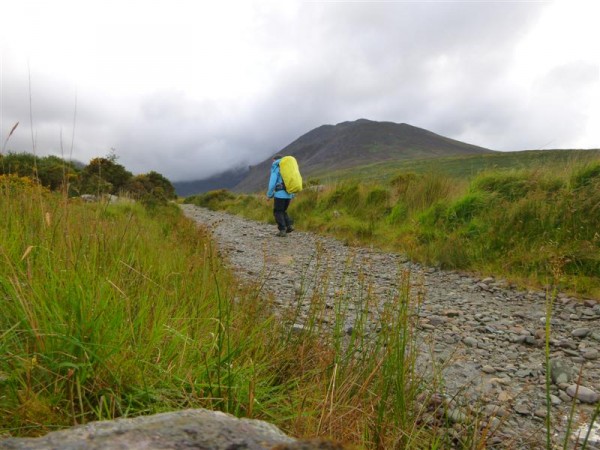 Me and my minnion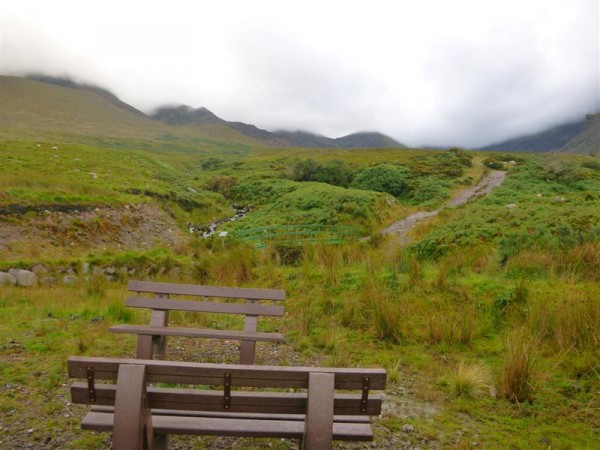 A great spot to stop and take in the view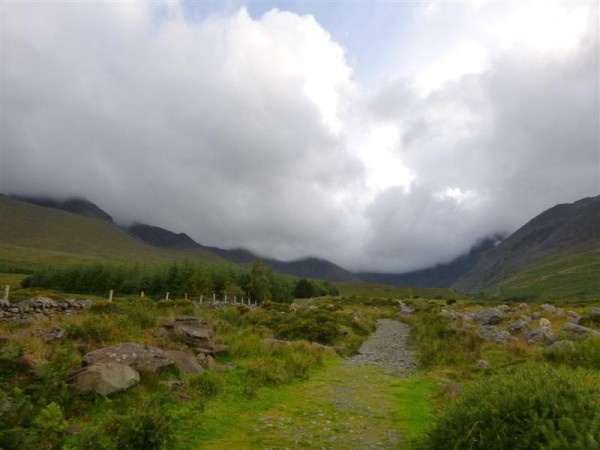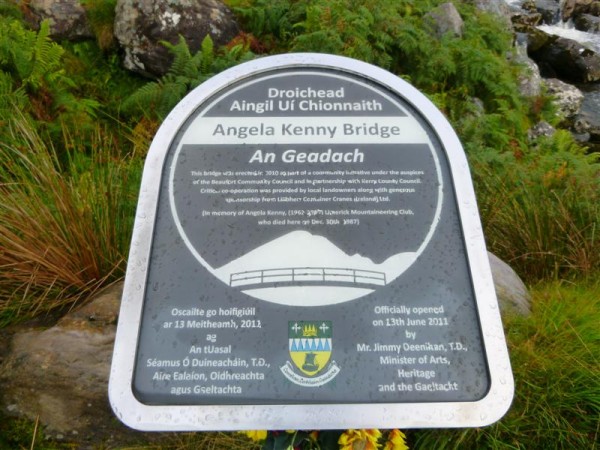 At the first bridge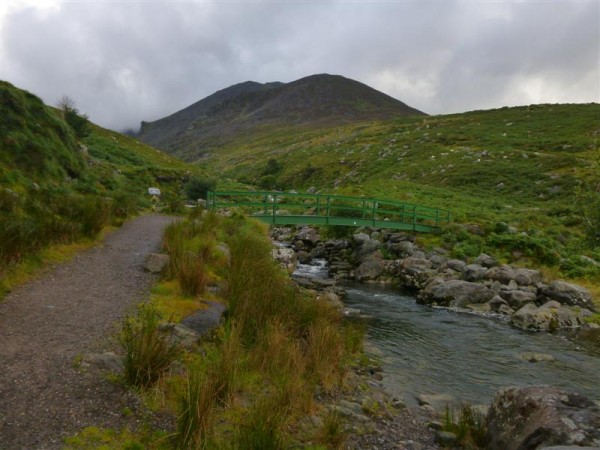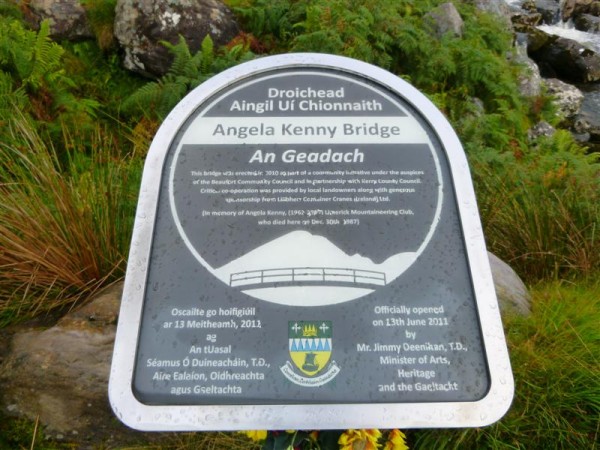 At the second bridge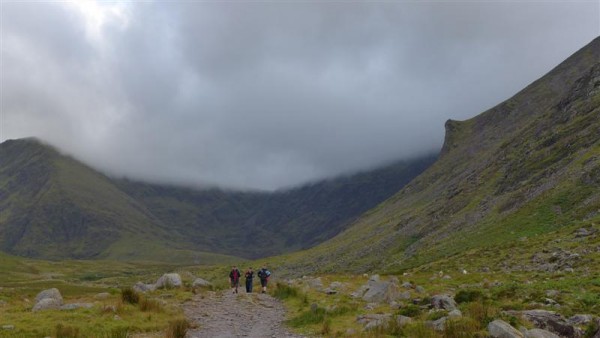 Met a few stragglers coming down, they seriously questioned my objective ;D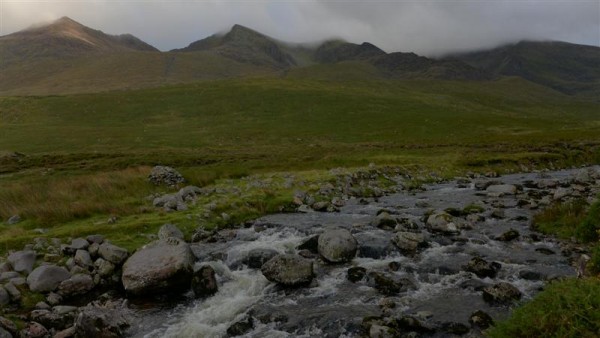 View to the left of Maolan Bui, Cnoc an Chullin & Cnoc Toinne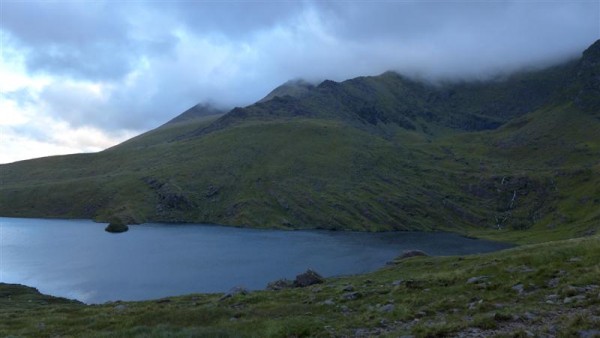 Lough Callee with its lovely wee Island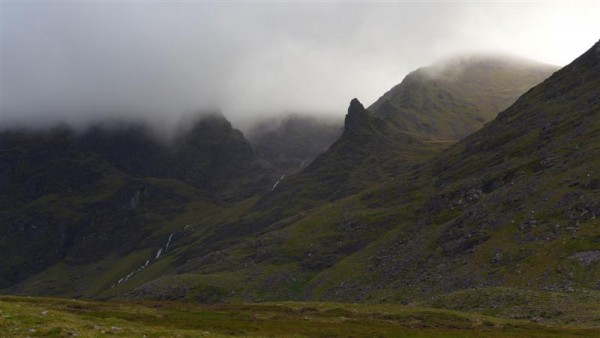 View to the right of Beenkeragh and Stumpa an tSaimh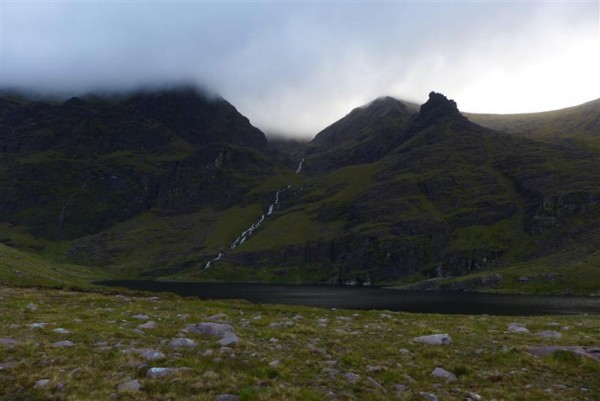 Cloud was low and I did want to get up before darkness so I ended up doing the devils ladder, the route was obvious from a distance so navigation wasn't going to be an issue. Rain came on and off, coat came on and off, and after 1.5 hours walking I reached the base of the ladder, from a distance this looked very dodgey, but when close it looked doable, one big issue would be falling rocks from walkers above, fortunately it was late and I only met one other walker on this section, he was foreign and asked "was i sleeping on the hill?" I suppose to many from abroad this really is only a hill 🙂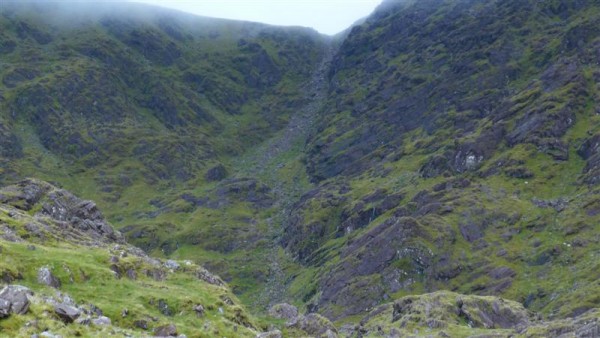 A closer view of the ladder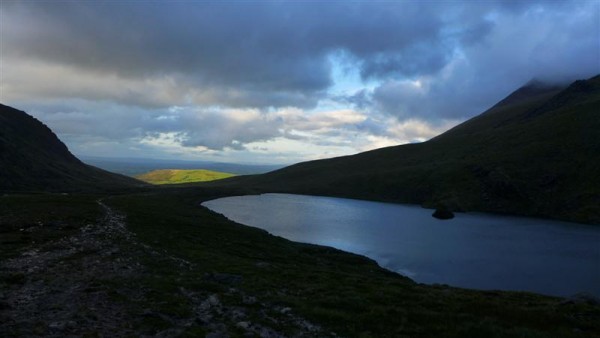 View from the start of the ladder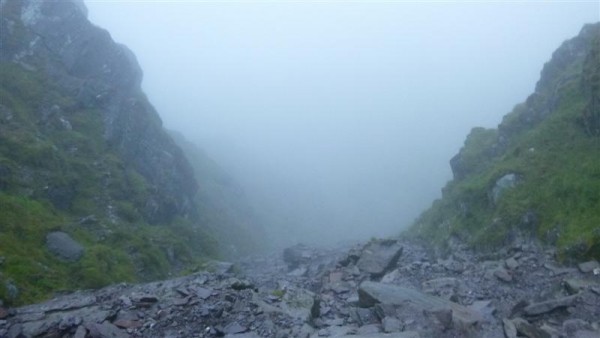 Half way up the devils ladder and here is the view down 😮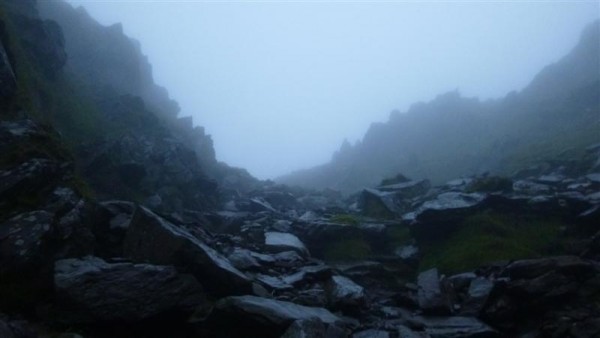 And the view up 😮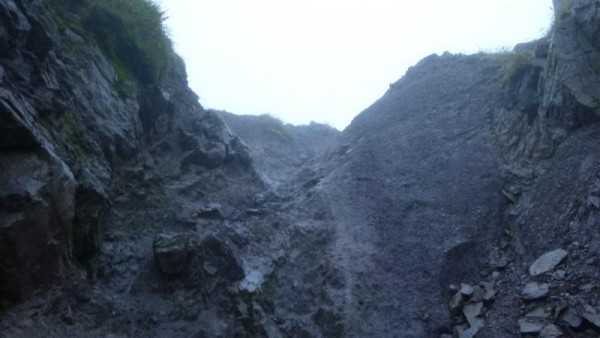 The top of the ladder, now this was a very weird moment, it all went quiet suddenly, no running water no wind noise, just a moment of silence
Now on the saddle there is some lush grass perfect for camping on, I was tempted to set up the tent here and pop up to the summit after, but no, I was on a mission, Dowser's recent camping on Errigal summit showed me it was possible (if uncomfortable) but I had 2 mattresses with me so I was ready for anything 🙂
The next part of the hike is a long slog, but seems almost easy after the ladder, visibility was down to a few meters and it was just a slow plod to the top.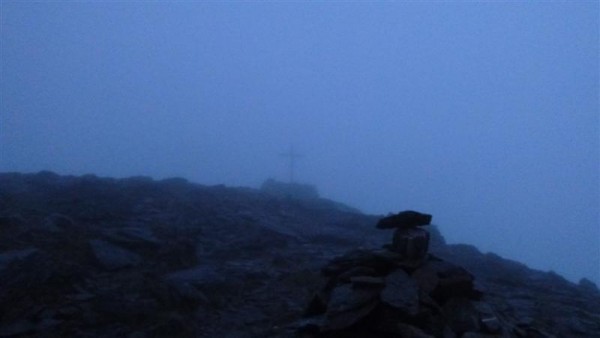 Finally, after 2.75 hrs I could see the summit, I actually hugged the cross!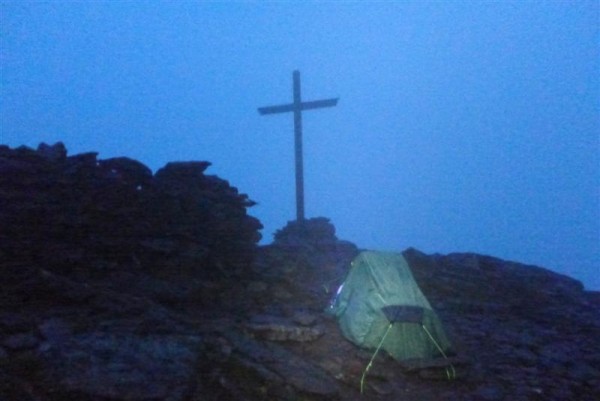 I rested too long and got cold quickly so threw on everything I had, did a few star jumps, then put the tent up before sitting back and enjoying a beer. I did bring a bivvy bag in case the weather was fine or space was limited, but weather was shite and any sheltered spots had rements of toilet roll >:( so I pitched up on the narrow path alongside the summit shelter which gave some wind protection. Managed to get 2 pegs in and held the rest of the tent down with rocks. Wind was rather light so it wouldn't be an issue.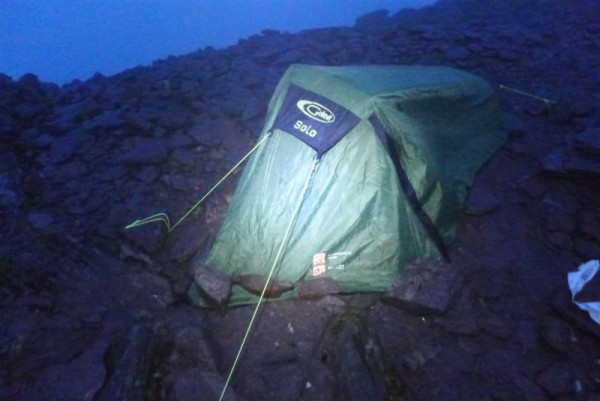 The gelert solo was the perfect tent for this ocassion.
It was a rough nights sleep, although the wind was light the tent flapped a lot due to a lack of pegs, the rain was off and on during the night too. At 5.30am I packed up and headed down in the hope of getting back to the hotel for a big fry.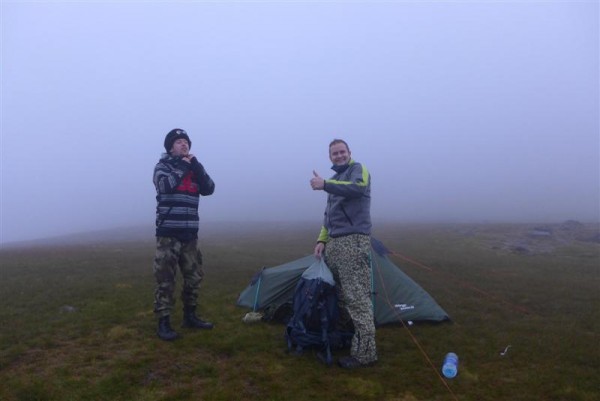 At the saddle I met a couple of Cork lads who had come up during darkness for a quick overnighter, chatted for a few minutes then bid them farewell.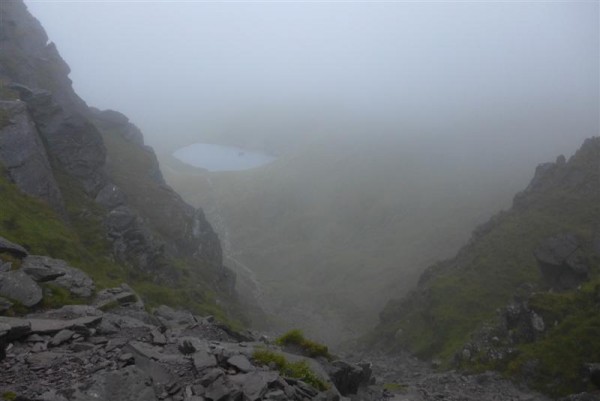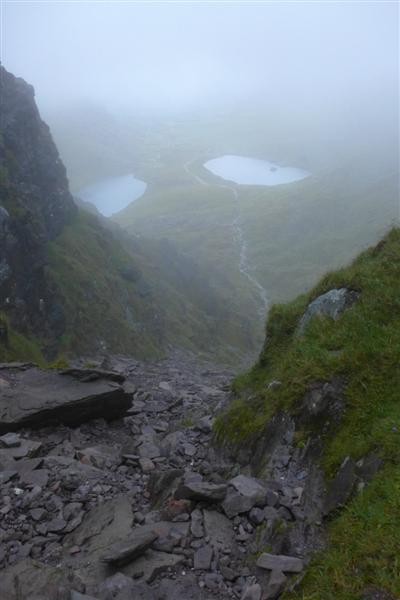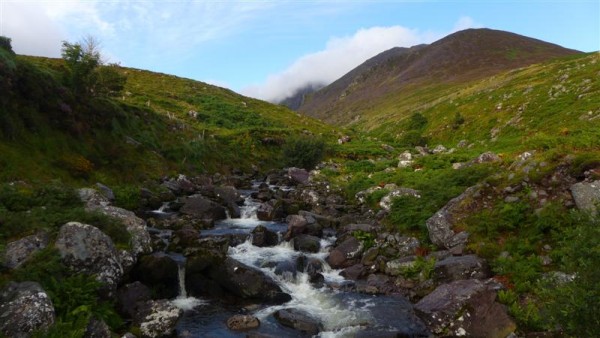 Home. I kept looking back in the hope that Carrauntoohil would reveal her summit to me, but it wasn't to be, she stayed enveloped in cloud the whole time.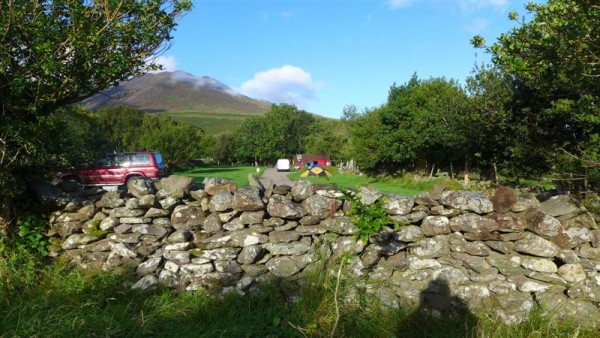 2.5 hrs later (strangely not much faster coming down than up, maybe I chatted longer than I thought) I arrived back at Cronin's Yard, here's their campsite, with glamping pod in the distance. I have a feeling I'll be staying here in the future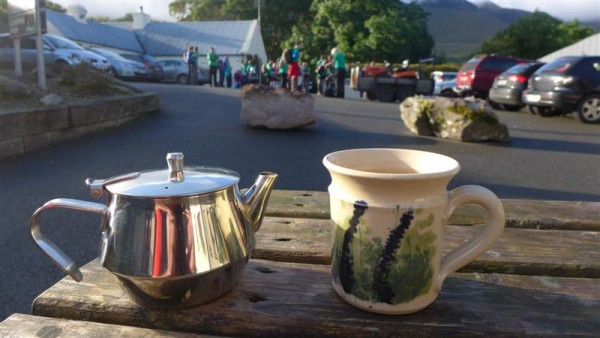 Sitting back enjoying the sun with a big cup of tea watching a group get ready for there big hike. Someone did fall from the ladder later that day and needed rescued by helicopter, I wonder if it was one of them!
CALLOUT. 22 August 2015. Rescue – Carrauntoohil.
On Saturday afternoon at 2.30pm, 15 members of Kerry Mountain Rescue Team were called to the assistance of a young Spanish lady near the top of the Devils Ladder on Carrauntoohil. The Irish Coast Guard Helicopter was also tasked to the incident. The lady sustained head and back injuries when she fell while descending the mountain. Weather conditions were favorable and the helicopter successfully airlifted the causality from the gully. She was transferred to Kerry General Hospital where she was treated for her injuries. The rescue concluded at 3.45pm. Earlier this week a similar incident occurred in this area.
You'll be glad to here I did make it back to the hotel for a lovely fry with the family ;D
If you are considering this route I would suggest you try the devils coachroad in the mournes to get a feel for what is expected, starting at carrick little would give you a similar walk in distance. Also I would definitely recommend you wear a helmet and do not do it alone!
I got my route information from Kerry Mountain Rescue Teams excellent website
http://www.kerrymountainrescue.ie/routes/index.html
It's also worth noting the following safety information they provide on their site
ESSENTIAL SAFETY INFORMATION FOR CARRAUNTOOHIL
KMRT would like to alert all walkers to an extremely dangerous situation which exists on Carrauntoohil at present.
As many people know, the summit is surrounded on three sides by very steep ground, and has always required careful navigation to locate the correct route in descent, particularly in poor weather. This situation has been exacerbated in recent times by the fact that a visible 'false' track has now developed leading from the summit directly towards dangerous ground.
Walkers should exercise extreme caution when navigating from the summit, particularly when visibility is poor. It should be noted that there are NO safe descent routes anywhere to the N, NE, E or SE of the summit.
All parties should carry a map and compass and should include at least one competent navigator (ie. capable of consistently accurate navigation in darkness or white-out conditions) as part of the group.
In addition, many popular routes on the mountain, including the Devil's Ladder, the Heavenly Gates and Brother O'Shea's Gully are now becoming severely eroded and demand care.
As always, in case of emergency in any mountainous area in Ireland dial 999 or 112 and ask for Mountain Rescue
Original post here
With thanks to LandyLiam