I had a short notice work trip to the Isle of Man and unfortunatley the flights home were all booked up! not a problem, I'd always wanted to camp on the Island and the forecast was for a dry but windy night. I also had a new tent I wanted to try out. An unused Gelert Solo that I picked up on Gumtree for a tenner, bargain ;D . At only 1.5kg it wasn't going to put me over the weight limit either.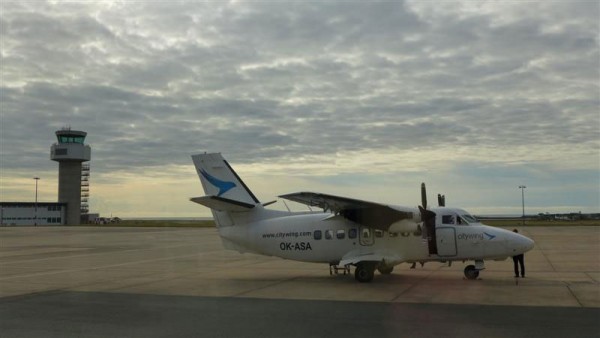 This was my boneshaker plane, not recommended for those nervous about flying. It did rattle quite a bit as if there was something loose 😮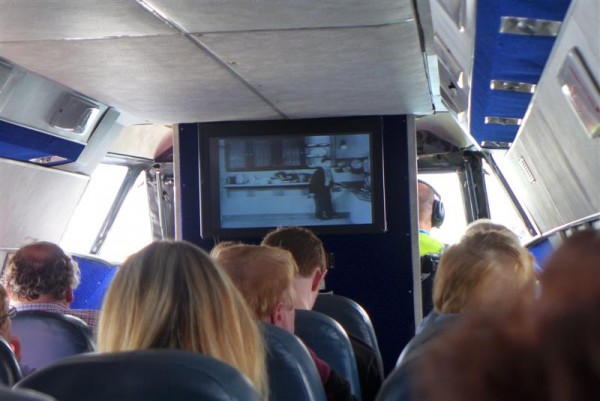 At least there was an in flight movie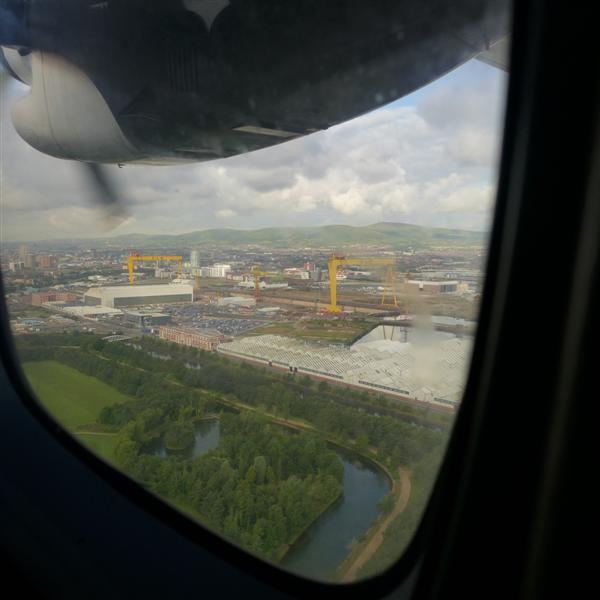 Once I had got the work tasks out of the way it was time to explore the Island in search of a cosy camping spot which would shelter me from the wind and give me a nice view. I had done a quick internet search beforehand, there was mention of a Sulby Claddagh free camping spot with toilet facilities. But you have to get a £15 permit 10 days beforehand so that wasn't happening.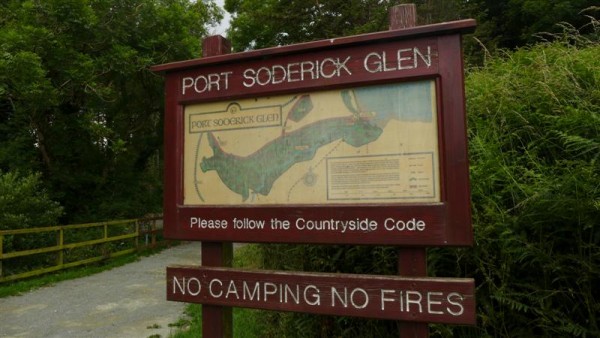 I visit the island often so I knew of a few potential spots so went exploring. First off was Port Soderick glen, obviously I wasn't welcome here!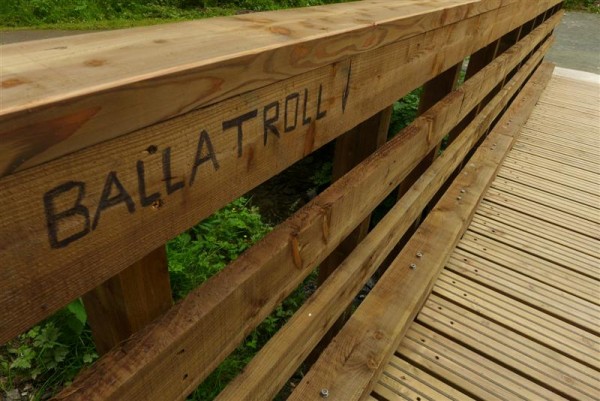 Anyway I wouldn't have slept well knowing there was a troll nearby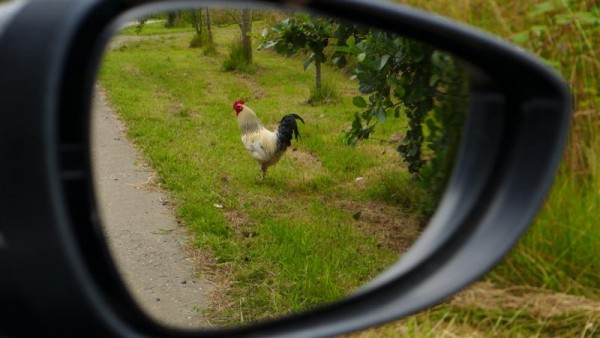 Plenty of interesting sites round the Island, its a rather quaint place, passed many a rooster on the roads ;D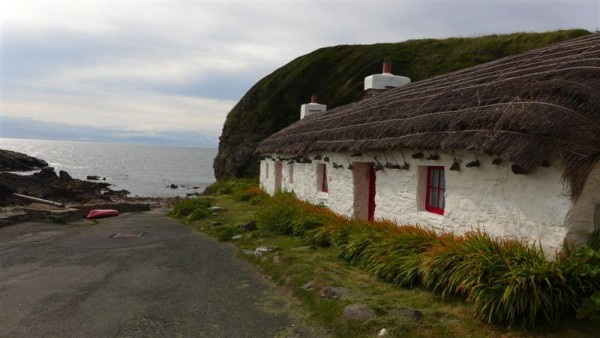 Next up was a Niarbyl on the West coast, there's a lovely thatch cottage by the small seaside car park, but my target was a secluded beach 15 minutes walk along the coast.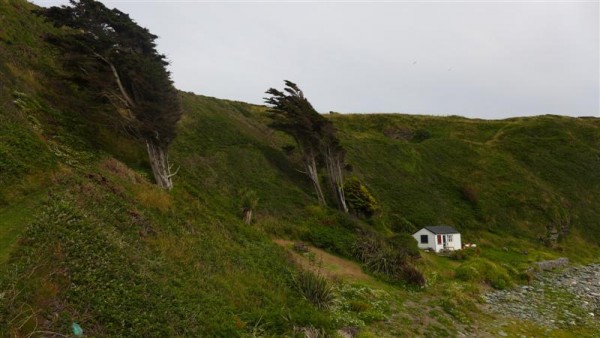 It was certainley a secluded spot, the ground here was either too rough or too steep, but I did find one spot along the path that had grass so soft I wouldn't have needed a camping mat, but there was little chance of getting the pegs in that ground and with the windy night forecast I passed it on, there was also a lot of noisy seagulls too that might disturb my mornings lie on. :'(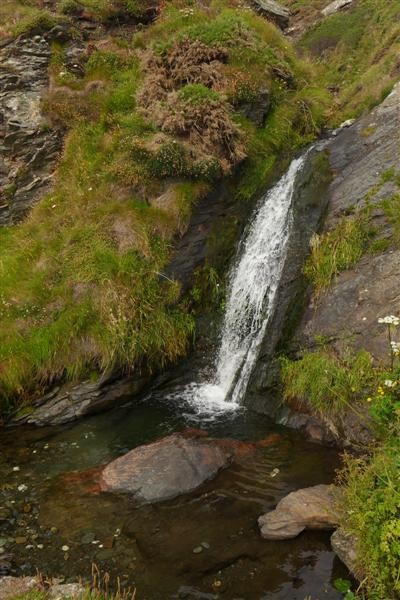 A great advantage of this place was a lovely waterfall that would have made a great shower in the morning, if it was warmer 8)
Spotted this in the car park of the nearby cafe, if only there was grass on the roof it would have been perfect.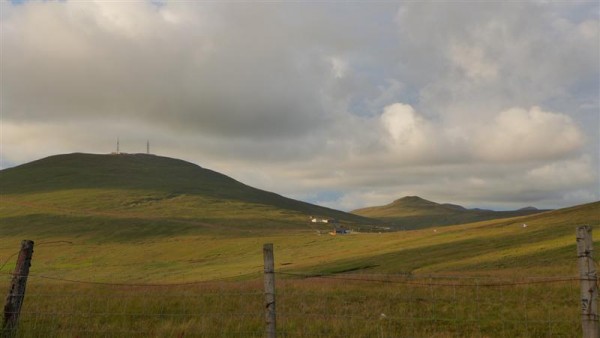 In the distance I could see Snaefell, the highest peak on the Island. I had thought of camping on it just for bragging rights of another highest peak but decided to go for its neighbour, Clagh Ouyr, just to the right. Thought it might be better to look at Snaefell rather than from it.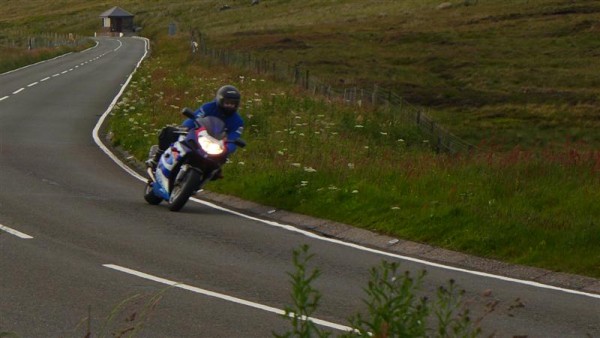 Parked up at the black hut and then had to cross the TT track, quite surprising how fast these bikes come, you really have to be on your wits crossing the road.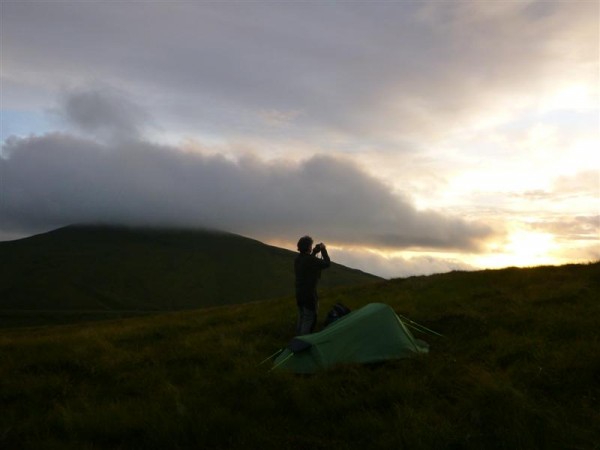 Found a sheltered spot 70m below the summit with very little wind and a great view of Snaefell and the main road (& TT track) yes it wasn't terribly wild looking but it gave me something to watch and the car lights would add to the photos. As you can see Snaefell had a patch of cloud on its summit that didn't lift all night, so glad I wasn't up there.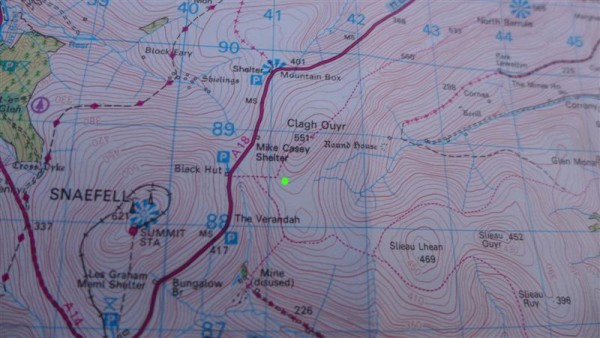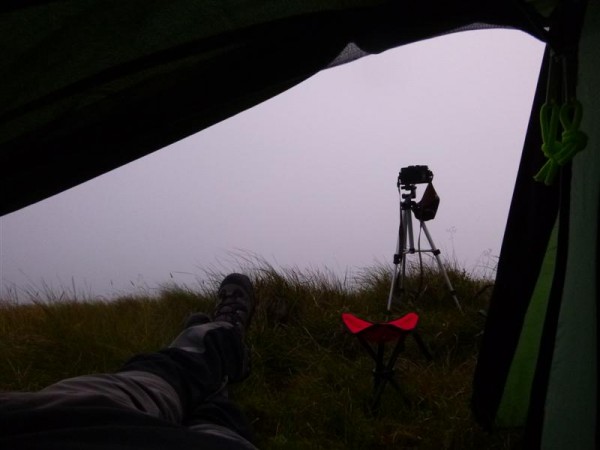 The cloud occasionally lowered to cover me as well 🙁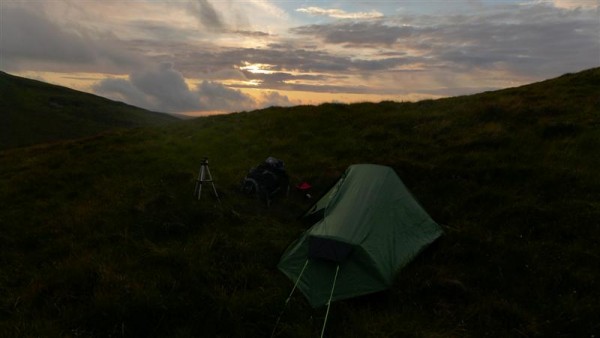 Time for a few sunset shots, not the dramatic shots I had hoped for though.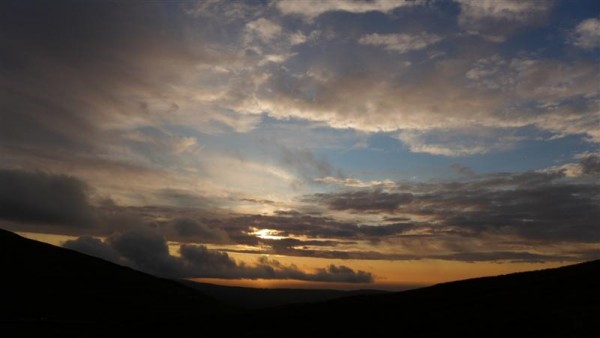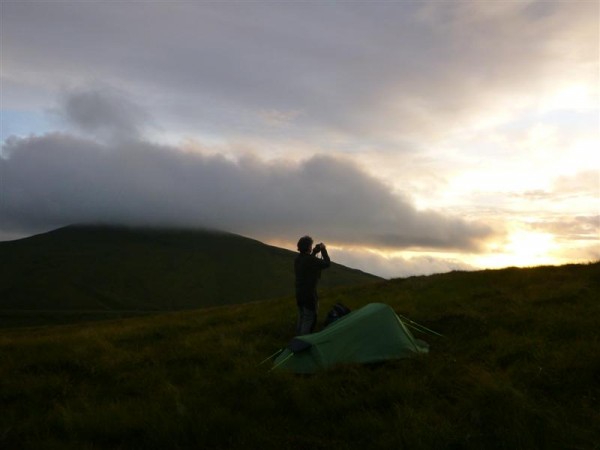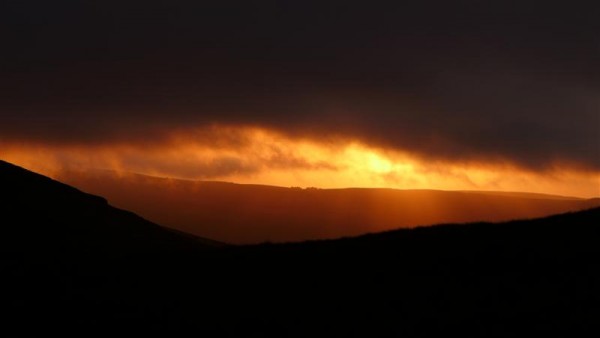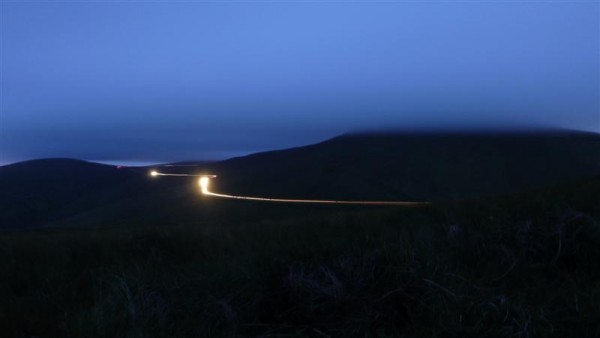 Once the sun had set I got a few shots on long exposure, but no stars :'(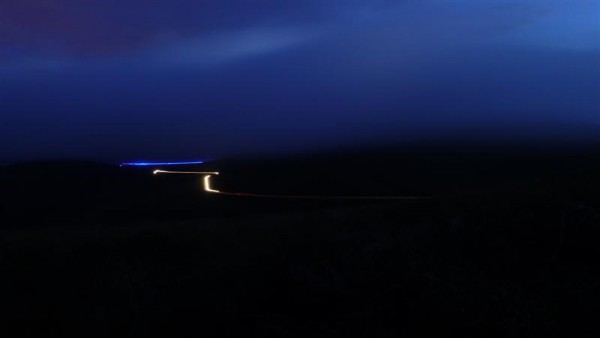 Here you can see some blue flashing lights in the distance.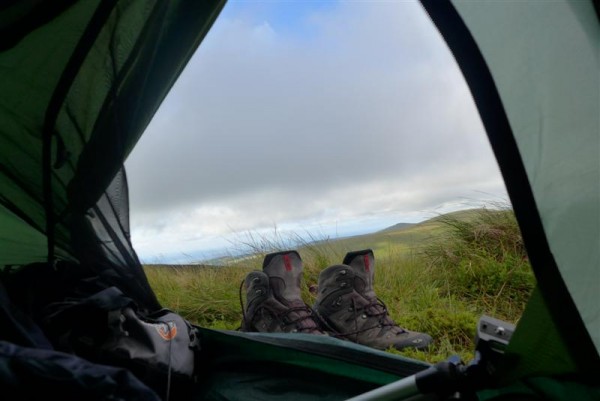 The morning view wasn't bad though.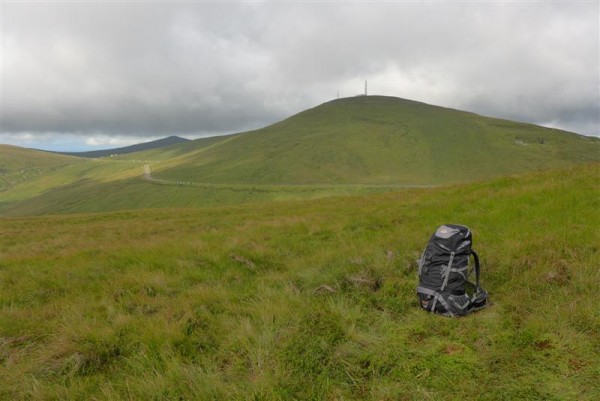 Of course as soon as the tent was packed away the cloud disappeared off Snaefell.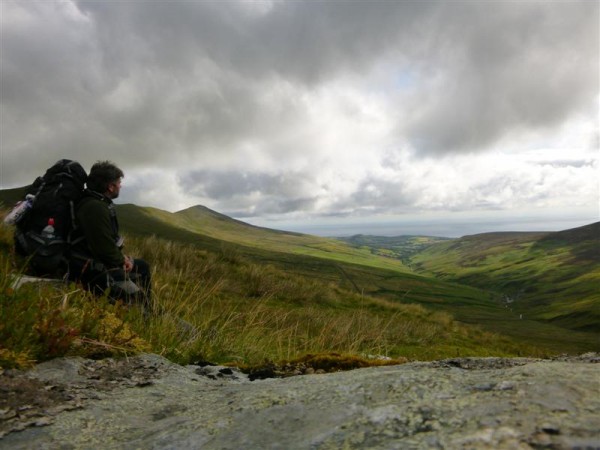 I had a few hours to spare before my flight home sook took a wee dander down the valley, found one of those nice rocks that made a perfect seat to sit on and take in the view.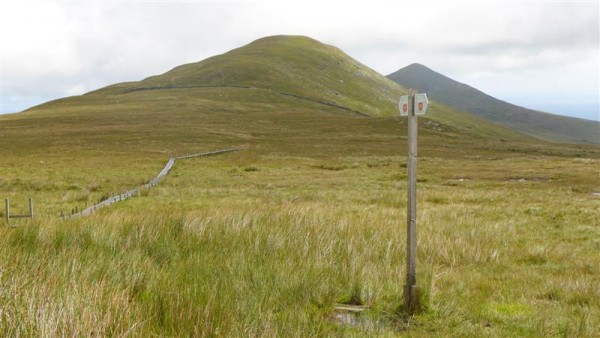 On top of Clagh Ouyr now looking back towards North Barrule, a lovely ridge walk I can highly recommend.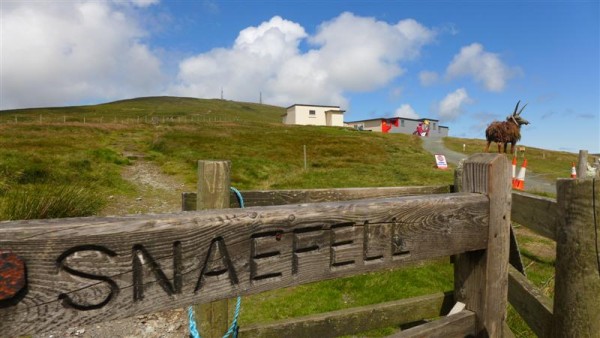 Then I popped back down the hill and off to Snaefell for breakfast, I had been there a few time before but never when the summit cafe was open. This is the old motorcycle museum, now closed.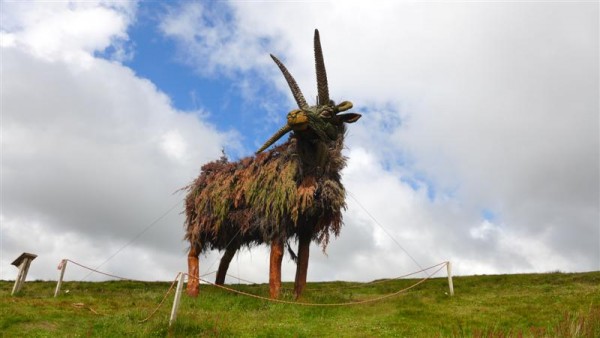 Manx sheep are different!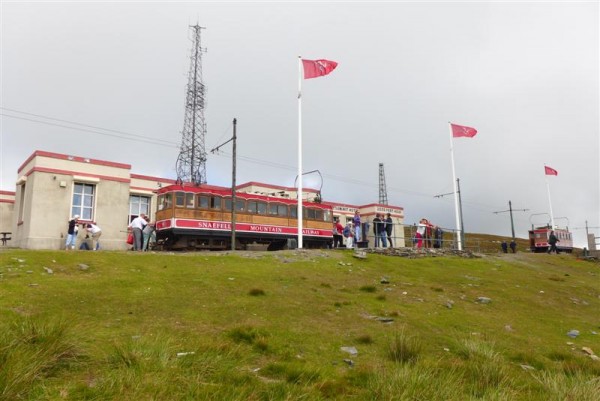 A half hour hike from the old museum will bring you to the top, or you could just get the train.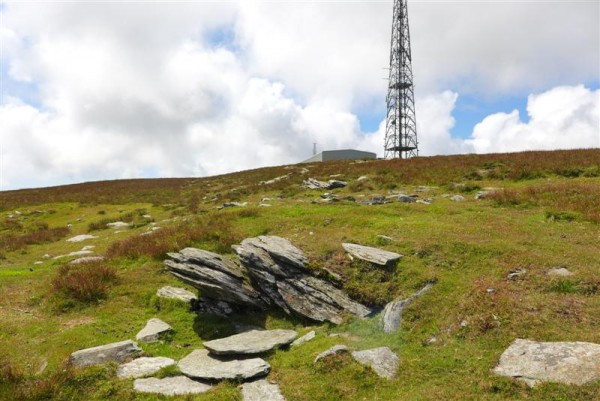 The summit itself has some pretty horrible buildings.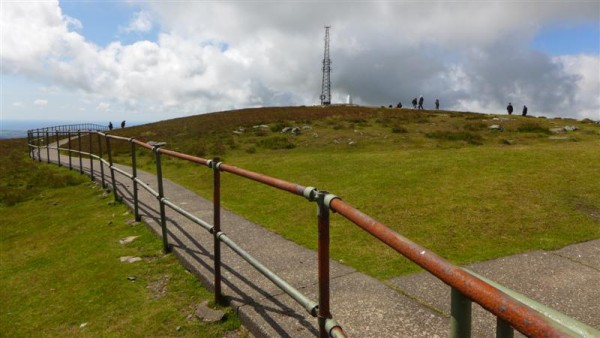 And a rather horrid footpath so the train passengers don't get their feet wet, not that many of the them even bothered venturing this far! more intent on getting tea and scones in the cafe ???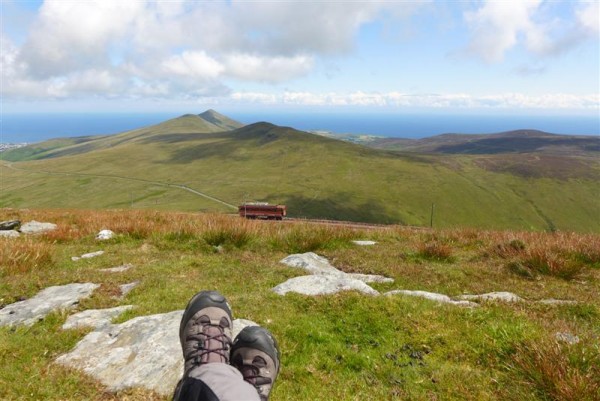 But if you keep going North a hundred meters you will be rewarded with what I think is the best view on the Island (and there are many great views to compete). To the left is the Point Of Ayre and straight ahead is Clagh Ouyr with North Barrule in the distance. I sat here for a while soaking up the sun and watching the trains amble by, it was bliss. I really should have taken a panoramic shot here, maybe next time.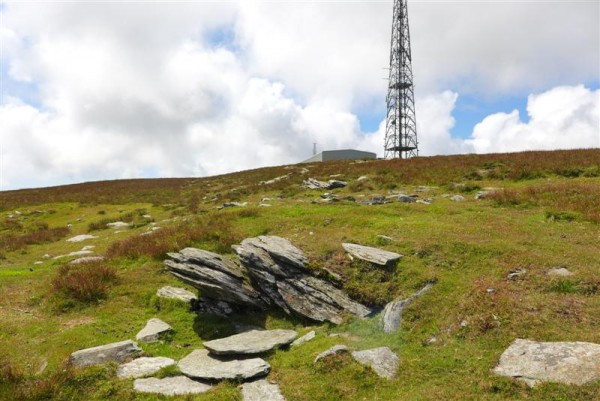 Here is my natural seat, there a lovely sheltered bivvy spot nearby 😉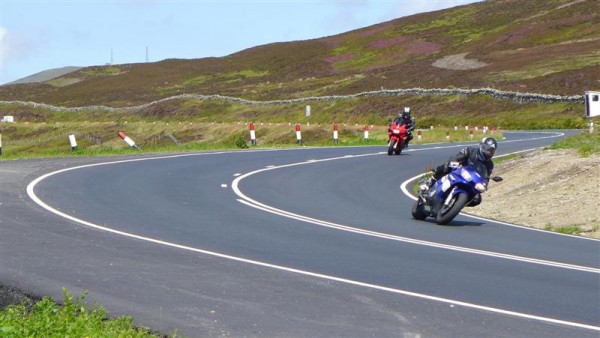 After getting back down to the road I took the opportunity to get a few pics of the passing bikers.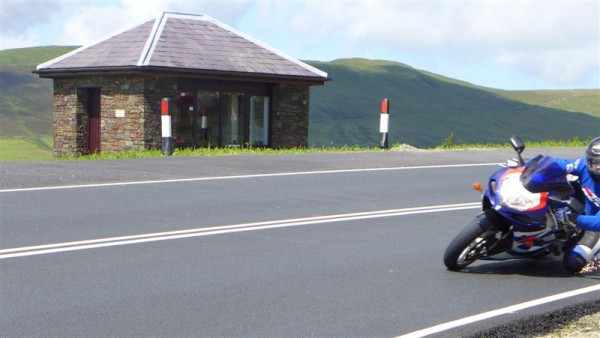 This fell was certainley hoofing it, check out those sparks from his kneecap!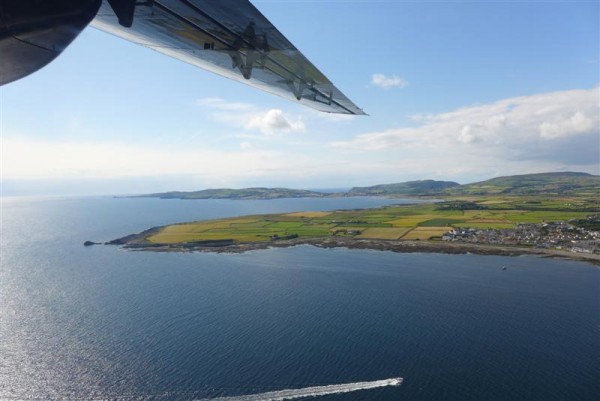 Departing from Ronaldsway Airport on the South of the Island, Calf of Man in the distance, Au Revoir.
So I'll definitely be back for another wild camp some time, on my bucket list is a walk round the whole Island on the Raad ny Foillan (Isle of Man Coastal Path), approx 95 miles long http://www.isle-of-man.com/manxnotebook/paths/coastal/