Route Information…
Track Overview :
Walking Length: 11.37 km / 7.10 mi
Total Time: 5 hours 24 minutes
Average Speed: 2.11 kph / 1.31 mph
Start Time: 10:23:03 23rd March 2015
End Time: 15:47:03 23rd March 2015
Urris Hills form two parts ,split by the Mamore Gap. The walk started in the Car Park at Butlers Glen .From the Car park there are two Options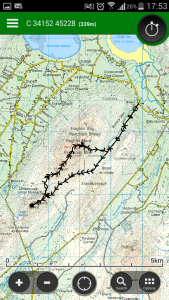 (1) Take the Waterfall walk then climb steeply out of the Canyon to the track.
(2) Walk up the track
Route markers are ever present for Butlers Loop Walk .Follow these to the saddle .Head up towards Mamore Hill .(423 M).Views are spectacular from here ,with Views across Lough Swilly .You can retrace your steps back or find an alternative route back to the saddle .
Head up towards Crockmain (460m).From here you can see across to Raghtin More (502m) . Descent was made back down towards the valley where the track was rejoined ,