With so much new gear kicking around the house but my weekends filled with duties I threw caution to the wind and took a midweek camp. Initially I didn't have much of a plan in mind just wanting a bivvy somewhere preferring a peak in the Mournes as it had been a while since my last summit camp. You can always dig out an NI-Wilder for a short notice camp and Twentyclicks was available for some night hiking as long as he could get back to Belfast at a reasonable time the next morning. I was unusually also free on the Thursday so we decided that Slieve Commedagh would provide a decent walk on the Wednesday night, a quick exit for Craig on the Thursday morning for a bus back to the Big Smoke and an easy spot if anyone else wanted to join in last-minute. In addition, it was also a great starting point for me to do a days hiking!
Late as usual, I collected Craig in Belfast and made for Meelmore Lodge secure car park. It was 8pm and the sun had long set when we arrived so we didn't waste any time getting our gear together and setting off down the lane. Our chosen route was a reasonably easy one, Hares Gap, Slievenaglogh, Slieve Corragh, Slieve Commedagh. Hares Gap is easy to get to being straight down the well traveled Trassey Track and once you have ascended the boulder field then turning left and following the wall will get you to the summit of Commedagh easily in any weather. I'd packed carefully and between being extremely strict and having bought a much lighter rucksack I was finally carrying less than 10kg including a litre of water for walking and enough (basic) food to get me through to the afternoon of the following day. As we meandered up the rocky trail that is the Trassey I immediately noticed how much easier I was finding the going having shed about 4kg from my usual pack weight.
After a brief pause for breath at the foot of Hares Gap we started the climb upwards. It's a steep enough route needing some occasional scrambling but not that tough or long and you will still see an occasional shepherd driving sheep up and down it if you arrive at the right time of year. At the top is the 22 mile Mourne Wall and after the climb I was huffing and puffing and glad of the makeshift seat of a plank on two rocks that someone had previously installed. Once on our way up the steps of Slievenaglogh the visibility dropped considerably and the telltale signs of apparent rain that never falls to the ground showed us that we were already above the cloud base.
Pressing on, Slievenaglogh and Slieve Corragh fell behind us quickly as we enjoyed the walk and it wasn't long before the final push up Slieve Commedagh. One of Commedagh's odd features is a pipe poking out from its slopes, close to the top on its western side from which cool, clear water flows all year round. No-one seems to know who put it there or where the water actually comes from but fresh water near a peak is a real bonus that had allowed us to carry a minimum of fluids knowing we could fill up at the end. In the dark with the clouds swirling around we briefly wondered if we would be able to find the pipe but with the weather having been pretty wet the previous few days we could hear the water running from quite a distance and as we ascended we were easily guided to it by sound alone. Once our thirst was quenched and water bottles filled there was only another few minutes walking to be done to get us to the summit finishing our evenings endeavors at around 1030pm.
Oddly, when we reached the stone tower that marks the highest point of the Mourne Wall on Slieve Commedagh (but not the actual peak) the weather had completely cleared leaving us with a great view of the moon as it came and went behind the now much higher clouds. In the distance we could see white wispy clouds creeping between the twin tors of Slieve Bearnagh and it looked like there might be a remote chance of a cloud inversion. Alas, the low cloud eventually evaporated leaving a brilliant clear full moon.
We were both bivvying and after some stalking back and forth looking for a decent flat spot we realised that although we were alone on the peak tonight, it was obviously usually inhabited by sheep and judging by the quantity of crap around, it must be a mightily sized flock! After some debate we picked the clearest area we could find and set about getting tarps and bivvy bags sorted for the night. Typically we hadn't finished more than ten minutes when the wind changed to blow from the exact opposite direction but we couldn't be bothered moving our stuff and reckoned with the wind so low it wouldn't matter too much. Craig had kindly carried a up firelog since it would have totally blown my nice light pack weight and once we had encouraged it a tad with a gas stove, it was nice to be able to sit and watch the flames flicker while we enjoyed some celebratory Jack Daniels (to keep out the cold obviously) while waiting for Liam and his son Connor who had decided to join us.
Liam and co came up the Glen River path from Donard Car Park appearing at around half past midnight. They were also bivvying and had brought a firelog which they added to ours and settled down for some chat and a snifter of the hikers friend, Buckfast! Soon 2am approached and it seemed a good time get cosy in the sleeping bag. Everyone else was commenting on how mild the temperature was but even wearing every layer of clothing I'd brought with me I was still chilly and it seemed silly not to get into the lovely down sleeping bag that was lofting nicely in my bivvy. After some gymnastics I managed to elbow myself into the bag beneath the low slung tarp and soon warmed up. I had decided to take a new tack in my quest for a decent nights sleep outdoors and had brought a track on my Ipod from the good people at Pzizz. Pzizz is a piece of computer software that will create a track of whatever length you please that is a mix of soothing sounds and spoken word designed to help you off to sleep. I can't be sure whether it was that or just sheer tiredness but at around 4am I dozed off waking again at around 6 but considering Liam had been up at 630 to go and find a geocache and I'd not heard him I must have slept longer without realising. Either way, by 7am when I peeked out Craig's tarp had disappeared and I assumed he had quietly packed up and was off down the trail to catch his bus. Soon Liam also reappeared from the Commedagh/Corragh saddle with his geocache tally increased by one. Liam and Connor were also work bound so they too packed up and headed off towards Shan Slieve for a descent back to civilization.
Now on my own I broke out the OS map and while eating porridge and drinking coffee looked for a fun route back to Meelmore Lodge. I had most of the day to spare and wanted something that would take a few hours but without being too challenging in either distance or ascent. I also wanted a route that I could chicken out of if needs be and escape to the road to get a taxi. After only minor deliberation I chose the Annalong Valley as my initial destination and once there I'd decide what to do next – either wander out to Carrick Little car park for a lazy taxi or cross between Slieve Binnian and Slievelamagan to come back up to Hares Gap via Ben Crom.
At 10am I realised that if I didn't get a move on I wouldn't have time to complete my walk so I hurriedly set about packing up my gear to drop off the mountain to the Donard/Commedagh saddle. The terrain was particularly slippy after the days of rain and I had to pick my way carefully to avoid falling. Soon I was at the style and hopped the dry stone Mourne Wall heading for the obvious trail of the Brandy Pad. Once there I could see the path I wanted weaving around the base of Slieve Beg and Cove but couldn't see any easy way to drop down to it. This was one of the routes I had pondered a number of times on the OS map from the comfort of the computer but not yet trekked. The Annalong Valley and Brandy Pad are both very popular paths with the Valley running at right angles to the Pad but with no marked route to connect the two. The Brandy Pad, an age old smugglers route lies about 100m above the end of the valley but the drop is steep and nowhere looks particularly easy to get down. Being on my own I was doubly nervous of doing anything dangerous and in the end went right to the slopes of Slieve Beg, as close to the path I wanted to hit as I could and then started zigzagging down. As it turned out it wasn't difficult at all and there were numerous small paths for me to follow. In seemingly no time I was down and started to motor along the path that would lead me to the slopes of Slievelamagan.
One thing that had happened that would impact my hiking for then next couple of hours was that I wasn't actually on the path I thought I was on – something that would happen a number of times that day. The Annalong Valley is littered with sheep trails, even more than usual after the intense forest fires through the summer so while I was walking a well trodden track full of boot and hoof prints my assumption that it was the trail I was looking at on the map was incorrect and I was actually about 100m below where I wanted to be. This didn't really matter as I could see my destination in what had turned out to be a warm, sunny day but had the weather been more arduous then it could have proved problematic. The only real downside was that the upper path would have led me nicely to the Blue Lough and the trail to Ben Crom whereas the lower path would run down the valley to Carrick Little car park. I had been suspicious for a while but by the time I decided to stop and consult the map I was over 400m east and 60m lower than where I wanted to be and I couldn't even see the track I should have been on. This was the point where I had to decide whether to press on and hike back the hard way or play safe and taxi it back to Meelmore. It didn't take me long sitting on a rock in the sunshine eating a choccy snack to realise that walking home was the right thing to do so I slung my pack on my back and hurried off to the Blue Lough and then up to the Binnian/Lamagan saddle.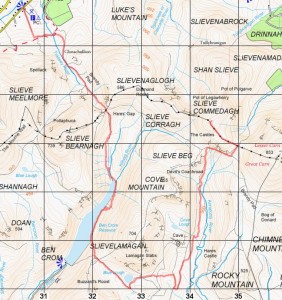 Once I could see Ben Crom I needed to decide how to get down to the waters edge and the path that would lead to the shores beneath the well known Shelter Stone where we had camped a few weeks before. From Slievelamagan there's a path on the map leading southwest but realising now that I was tight for time I instead elected to bomb straight down the mountainside. The going was hard and I was nervous about falling but I soon met the path and once there was confident that the route from here home should at least be straightforward, although I wasn't looking forward to the slog from Ben Crom up to Hares Gap.
Around this time I became concerned that the hike was taking longer than expected. I needed to be home by 5pm at the latest and by my reckoning even if I pushed that would be the absolute earliest I could make it back. Being past the point of no return there was little I could do so I abandoned plans for a leisurely lunch by the waters edge and instead ate breakfast bars, chocolate biscuits and Harribo sweets on the move.
The path by Ben Crom looks lovely and flat on the map but on the ground it undulates plenty and was much more tiring than expected. By the time I reached the head of Ben Crom I had walked around 7 miles that day to date with 3 to go and was seriously starting to feel the burn. Pausing for breath by the fast flowing Kilkeel River I knew the ascent to Hares Gap would be tough but alternatives were nonexistent so I filled my water bottle, threw in some Lucozade Sport powder for good measure and urged my aching thighs onwards. Again, I managed to not find the path marked on the map leaving me wading through gorse the entire way. In retrospect, the fact that I could easily see my destination at all times was no excuse for ploughing on and spending 2 minutes looking at the map to find the path would ultimately have saved me both time and effort.
It seemed to take an unbelieveably long time to get back to the wall but if there's one thing hiking has taught me it's that it's best to just press on as hard as you can, so pausing regularly for breath when I could see stars, I eventually made it to Hares Gap and a well earned seat on the plank that had provided me some relief the night before. The Trassey Track stretched out beneath me and with someone elses annoying dog for company I started the clamber down the boulder field to meet the trail and hotfooted it back to Meelmore Lodge as quickly as I could. By the time I was nearing the dreaded Meelmore Lane my legs and ankles were crying out for rest but knowing I was so close to the car I kept going.
I reached home at 430ish and on reflection, the evening and day of walking was really quite a lot for someone of my fitness level. 15 miles in total carrying all my overnight gear, 4 miles on Wednesday night and 11 miles on Thursday and around 1000m ascent split quite evenly between the two days. I think more than 10 miles in the hills in a day would be tough but achievable if I started earlier and stopped for a proper lunch but I'm not sure how much more ascent I'd like to add. This trip was a tentative tester with a view to considering next years Mourne Mountain Marathon – think I'll have a few more trips before I do any comitting!
Unfortunately I'm without camera at the moment for trips. The Nikon compact now takes such a bad photo it's not worth carrying a and the DSLR is just too heavy. Thanks to Liam for the few photos there are and I'll get a new camera soon.