I was out for a couple of walks over the weekend, in the Mournes and around Moneypenny's Lock, and pick up my first ever Tick.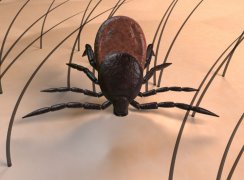 Not the nicest thing to find whilst lying in bed at 1am, so I got up and naively tried to remove it with a pair of tweezers. After making a complete hash of it and leaving half of it behind I turned to Google and realised how much of a mess I had made 😮
NHS Choices did a great job of convincing me that I now had Lyme Disease and that I had only a few months to live, but further Googling provided more useful info and, if your like me, and have limited experience of these critters, I would recommend that you have a read around the subject and familiarise yourself with the joys of Ticks and Tick removal.
HSC provides simple advice on avoiding Ticks: http://www.publichealth.hscni.net/news/%E2%80%98tick%E2%80%99-simple-steps-avoid-lyme-disease
Lyme Disease Action provides great advice on tick removal:
http://www.lymediseaseaction.org.uk/about-ticks/tick-removal/
I know I've learnt a lot about them over the last 24hrs and will be buying myself a Tick Removal tool very very soon.
---
Some links for Tick Removal cards. These are correct at time of writing and are the first we came across.
http://www.gooutdoors.co.uk/tick-remover-card-p293165
http://www.ebay.co.uk/itm/TickCard-Credit-Card-Size-Tick-Remover-Magnifying-Lens-Removal-Dog-Cat-Humans-/121619308611?pt=LH_DefaultDomain_3&hash=item1c51136043
---
You can get more information from other people in this thread: