Wed 3rd Aug 2011
Combined  this as a trip with some reviews on kit taken
Left Base camp in Castlewellan around 8:30 and started up towards Hares Gap from Meelmore Lodge. Weather was exceptional with the odd WWII plane flying over Hare's Gap made the journey up extremely pleasurable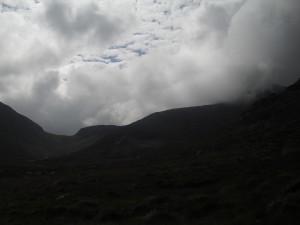 On arrival at Hare's Gap coffee break was taken. I always pack a flask  (Berghaus 1 ltr Stainless Steel flask which is extermely durable and robust, this  flask will stand up to the rigours of everyday walks and hillside hikes with ease and its  1 litre capacity is  big enough to keep your water piping hot for 6 + hours , and  compact enough to fit neatly into the rucksack or daysac. Only drawback would be holding food .Grand for soups etc as the dispenser at the top is designed so not to unscrew the top of.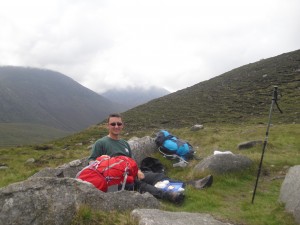 In the pic is myself with a Berghaus  Freeflow 35+8. I find it extremely comfortable and easily holds enough for a two day hike a comfortable rucksack which allows you to hike in comfort thanks to Freeflow V backsystem, giving minimal contact area, and a gap between your rucksack and your back to allow airflow and reduce sweat which actually does work .The  EVA breathe®Matrix Foam technology, lets air flow and vapour move through the rucksack  .It also has 2x walking pole holders . 5 exterior Pockets  -1 x top , 2x side (long) , 1 x front and one bottom for showerproof raincover  which doubles as a waterproof seat
As its Hydration pack compatible it allows  me to stay hydrated on the move .I use a 2 ltr Camelback which I attach to the outside (easier to fill up and in camp remove and avoids unnecessary leaks)
 I like the separate compartment at the bottom  which can be accessd from outside .It can be made into one large compartment or two separate (This normally where I would have my Tent A Vango Tempest 200 has withstood the rain and strong winds! and can  be pitched  in minutes and likewise for taking it down. It is a two person tent with a large porch area for the Rucksac, boots etc. Quite lightweight and waterproof.
Headed up Bearnagh which is tough going and personally the hardest in the Mournes ,Cracking views though when clear. 
It has great rock formations , nooks and cranny's to shelter you from the wind and the descent to Meelmore can get tough
I use a  Karrimor Global 900 Lite as my maggott  does the job with a self infalting mat. I cook on a Trangia 27  a gas converter and also have the burner depending on my mood.I find it easier for Larger meals when in base .
A gentle day out covering 3 peaks  . Wore Berghaus Sarak  boots (had them for years) . Mountain equipment stretch trousers ,wind and showerproof with ventilation. Couple of base layers ,wick vests short and long sleeve with neck zip 9great to open when overheating. Have a  North Face waterproof with a padded shell for the heat at night.