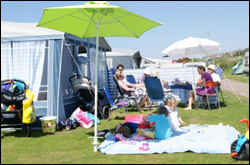 Anyone can get out for a nice night in the open air. There are no shortage of campsites where you can park the car by the tent, bring a gas cooker, comfy bed and if needs be, a portable satellite TV system. It's unbelievably easy. You can visit Argos in the morning with absolutely no gear and be camping by dinner time. However, if you have a hankering to camp somewhere that requires you to pack everything you need into a bag and carry it on your back to your destination then the game changes dramatically. 500m from the car wont be a huge difficulty but if a mountain or a few miles into the moors is your goal then careful thought and planning is needed. The cold and wet can be a killer for the unprepared and the volunteers from the mountain rescue service regularly get pulled out of bed to go and search for someone who didn't give enough thought to the dangers of the unpredictable UK weather. That said, while the UK weather is famous for being changeable, we don't get the serious extremes of hot and cold that other countries see and if you're sensible and well prepared you can happily camp all year around.
Here's a list of the most important items the ultralight hiking camper needs with some recommendations.
Rucksack
Your rucksack can make all the difference in lightening a pack weight. If you can find a light bag that you find comfortable you can save as much as 1.5kg before you even start to pack gear. The rucksack should be sized correctly for your back (any outdoor shop will be able to do this for you) and it should still have the rigidity to be able to transfer the weight from your shoulders to your hips. I find somewhere around 38-45L packs enough for an ultralight trip and since it's fairly tight, you are encouraged to pack only the essentials.
Waterproofs / Clothes
Ultralight doesn't need to mean ultracold or ultrawet. Hypothermia is a real threat all year round and staying as warm and dry as possible is important. I generally wear a wicking base layer, fleece and waterproof jacket for walking (if it's warm I stick a layer or two in the rucksack). When sitting around on a break I wear an additional down jacket, then at camp I also change the wicking baselayer for a thermal one and if it's looking extra cold I bring an additional fleece that will fit with all the other clothes on. It's important that you have good waterproof trousers and jacket. Something breathable like Goretex or Event is best. Gaiters also help stop the bottom of your trousers getting wet and you should have footwear that will keep you as dry as possible. Finally, hat and gloves are a must in all weather, period.
It's not always possible to stay dry. In torrential rain while doing exercise eventually either you end up wet with water from the outside or sweat from the inside. This is difficult to manage and carrying spare clothes can be heavy. Sometimes the best plan is to not sit around, if you've managed to get wet then get into your sleep system and get warmed up. Drying clothes on the move is pretty much impossible, once they're wet they'll likely still be wet when you get home unless you can find a fire. Putting wet clothes on in the morning is one of the most horrible things you have to do when wild camping but once you have them on and do a bit of exercise you'll warm right up. I currently wear a Mountain Equipment Ogre waterproof jacket (or Berghaus Paclite which is lighter), Berghaus Deluge Overtrousers, Rab Alpine Latok Gaiters and Rab Infinity down jacket. For fleeces any good quality one will be fine, just remember they come in different fabric weights (100,200 and 300), pick a heavier one for winter.
Shelter – Tarps and Tents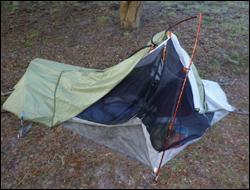 Whether bivvying or tenting, you'll need something to keep you dry overnight. Tents give you a bit of space to roll around and spread your gear plus cut down wind chill but generally come at the expense of weight. You can get tents that are lighter than bivvies but they tend to be very expensive (the Terra Nova Laser Competition for instance). A bivvy bag will usually come in between 500g and 1kg, the DPM British Army Surplus version is excellent although a shade weighty. Rab and Alpkit both have their own make of bivvy bags which are reasonable. The DPM bag has a big flap that you can fold over your face to keep the wind and rain off. The Rab Storm zips closed around your head and the Alpkit Hunka pulls tight around your face. Generally bivvys are paired with tarps to give some shelter although it's not absolutely necessary and they can be a right pain in the wind. DD do a good light tarp and again, the British Army one is excellent. Personally I'd recommend the British Army bag and tarp combo over all else but they can be difficult to get unless you fancy doing a tour of duty. Ebay is the best plan and they sometimes turn up on Amazon. For an ultralight tent I use a Vaude Hogan Ultralight Argon.
Sleeping Bag / Sleeping Mat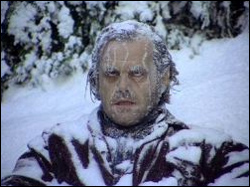 A warm sleeping bag is a must and it needs to be rated for the temperature you expect, preferably in the comfort rating rather than the extreme. It's another personal choice area that depends on how warm you generally sleep but something to bear in mind would be choosing between synthetic and down (synth is cooler but still retains warmth when wet, down is warmer but useless wet). Remember, if you are cold in bed just put more clothes on, a down jacket / fleece will make all the difference. Also, consider doing some brief exercise before you get in. You might feel a bit of a prune doing star jumps on a mountainside but bags don't generate heat, they only preserve it so if you aren't nice and warm when you get in you wont heat up all night. Same goes for eating just before you retire, if your body is digesting food a byproduct is warmth. I use an Alpkit Pipedream 600 (down) bag and a Mountain Hardwear Lamina 20 (synthetic).
A sleep mat is essential both for additional comfort but also to provide warmth. Your sleeping bag will compress beneath you and when it does it will hold less heat. A good mat will insulate meaning you will lose less warmth to the ground. Any type of mat will help, old school foam, ultralight self inflating or big old self inflating are all good, I plump for a Synmat Ultralight 7 self inflating – light weight at around 500g but still comfy. Pricey though in the £80 range. Thermarest also produce very popular and light self inflating mats.
Cooking / Stoves
Hot food and drinks are essential for a comfortable time. They help warm you, give you energy and also dramatically lift your spirits. A coffee / tea / chocolate when things are looking cold, wet and bleak really does help at the same time as providing some heat and hydration. Choice of stove is a very personal thing and depends largely on what you intend to eat. A Jetboil (review) is a great choice if you only want to eat rehydrated meals or MREs*, a superlight stove or Trangia Mini are also good choices. Conditions play a big part here – meths and gas perform badly in windy or sub zero conditions, multifuel works well in all conditions but penalises in weight. Personally for a difficult hike I go with the Jetboil and carry the gas cannister in an inner pocket to keep it warm if needs be. Finding shelter from the wind and trying to get any stove off the ground will also help in chilly, windy conditions.
* MRE = Meals ready to eat. A meal that just needs heated in its own packaging pouch.
Food and Water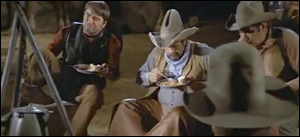 A nice feed can be a reward for a difficult hike but can be heavy depending on menu choice. Dehydrated food either home made or store bought can provide an excellent calorie / weight tradeoff, as can MREs. You can go the whole hog and bring food to cook but weight and the ability to clean pots can make life difficult. Having enough water is also important, you need to carry enough to keep you hydrated plus whatever you need for cooking. Fast moving streams en route can be used if you are happy to drink from them or have a way to purify water. MREs often make the most sense, you boil them in their own pouch which you then eat from and the water you boil them in can be used to prepare a hot drink making it very efficient, although they are pricey at £3-5 each.
Other Ultralight Considerations
Keeping Things Dry
It's essential that you keep your more important gear dry at all times. Sleeping bag, bivvy bag and all clothes not worn should be in a closed dry bag in your rucksack, I find a 20L drybag inside the rucksack is an easy easy way to divide the stuff that needs kept dry from the stuff that can get wet. A raincover for your rucksack is also a good consideration, especially if you are bivvying without a tarp and have no shelter overnight. Phones, GPS and any other electronics should also be in a suitable watertight container.
Safety
Map, compass and first aid kit are absolutely essential, you should never leave home without them and make sure you know how to use them.  A Space blanket and emergency bivvy bag are also important (if you're bivvying you already have a bag).
Repair
Tent poles are notorious for breaking at the most inopportune moments, especially on ultralight tents. An emergency sleeve can be a life saver, contact your tent manufacturer or have a Google for a suitable solution for your specific tent. Tenacious Tape and/or Gaffer Tape can also get you out of a number of binds with rips etc.
Ultralight Tips
Every little helps, or doesn't help. Lay everything out on the table and make sure you really want every item. You'd be surprised how quickly the weight adds up, especially once you add food and water.
When you get back, lay everything out on the table again and note what you didn't use, then don't take it next time.
Never leave out the gloves and hat even if the weather looks good. I've ended up chilly a few times thinking I was being clever.
Never be tempted to leave the first aid kit. You know why!
Waterproof trousers will keep you warm as well as dry. If it's dry but windy put them on anyway.
Share and share alike. In a crowd share gear. Even sharing just a tarp and cooking system will save a load of weight.
If you do fancy the British Army DMP tarp or bivvy keep an eye that what you're getting is the proper kit and in good nick. Lots of them are 2nd hand and there are some Chinese knockoffs floating around.
My Current Gear List
This is my current minimum gear list for a harder weekends hiking and camping and includes the brands/models of the more important items. Food and water is not included.
| Item | Type | Alternative |
| --- | --- | --- |
| Waterproof Jacket | Mountain Equipment Ogre | Berghaus Paclite |
| Waterproof Trousers | Berghaus Deluge | |
| Hiking Boots | Brasher Hillwaker II GTX | Scarpa ZG65 XCR |
| Bivvy Bag | British Army DPM | Alpkit Hunka |
| Tarp | British Army DPM | DD Tarp |
| Head Torch | Petzl Tikka II | |
| Rucksack | Osprey Mutant 38 | |
| Sleeping Bag | Alpkit Pipedream 600 | Mountain Hardware Lamina 20 |
| Sleeping Mat | Exped Synmat Ultralite 7 | |
| Stove | Jetboil Flash | Vango Compact Gas Stove + Pot |
| Fleece | Berghaus Full Zip | |
| Fleece 2 | Craghoppers Half Zip | |
| Gaiters | Rab Latok Alpine Gaiters | |
| Down Jacket | Rab Infinity | |
| First Aid Kit | Lifesystems | |
| Misc | Exped 20L Dry Bag | |
| | Alpkit Y-Beams (Pegs) x6 | |
| | Guylines x6 | |
| | Walking pole (for tarp) | |
| | Map/Compass | |
| | Phone dry bag | |
| | Plastic bags x2 | |
| | Spare batteries for torch | |
| | GPS (Satmap 10) | |
| | Pillow | |
| | Lighter | |
| | Spork | |
| | Folding knife | |
| | Titanium cup | |
| | Gloves / hat / buff | |
| | Thermal baselayer | |
| | Cooking gas x2 cannisters | |
Finally
This isn't intended to be an exhaustive list, just my thoughts on the subject and an idea of the gear I generally use. Obviously your own mileage may vary depending on fitness, terrain and weather but I like to stay around 10-12kg for trips where I'm expecting some proper exercise or if I'm walking for a length of time. It does significantly restrict me in comfort items but is worth it in the long run.
This is a tricky topic, feel free to comment with your own thoughts / gear recommendations.