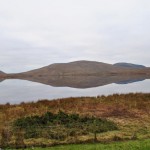 Jonny, Kat and I decided to see out 2010 with a New Years Eve day in the Mournes testing some Christmas gifted gear and taking in a few peaks that we hadn't yet summited. The plan was to start from Spelga car park and climb Hen, Cock and Pigeon circling the reservoir to finish back at the car. For once we managed to start on time but all having evening end of year commitments we decided instead to do a shortened route of Hen, Cock and Slievenamiskan allowing us home in time for some early beers (or the opportunity to drive someone else to some early beers).
On arrival we were suprised to see the reservoir completely still with bright, shimmering reflections of the surrounding mountains; unusual in the Mournes to not have at least a breeze if not a gale!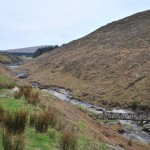 Leaving the car we waked a short distance along the Kilkeel Road to a bridge crossing the river that flows from Spelga Dam. This particular piece of water is actually the source of the River Bann, Northern Irelands longest river which at 80 miles runs from the Mournes through Lough Neagh meeting the sea at Coleraine. This bridge joins part of the Ulster Way between Tollymore and Rostrevor Forest which we followed briefly around Slievenamiskan to the base of Hen Mountain.
After a few weeks of unusually heavy snow, Boxing Day marked a massive and abrupt thaw which had replaced the pain of unusable roads with a water shortage caused by both a severe lack of maintenance by NI Water and an unusual number of burst pipes leaking more than the network could cope with.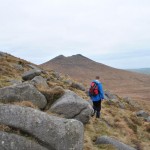 After few days without mains water meaning having to drink from water bottles and sharing flushes of the toilet the ironic view of a beautiful still, full reservoir had given us something to grumble about but as the roads dropped away we soon started to enjoy the cool, crisp and clear weather and thoughts that an after-walk soothing shower might be replaced with a quick cold wash from a bottle were soon forgotten as Hen came into view.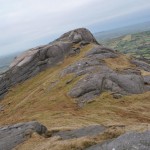 There is no path up the East side of Hen Mountain so we made for the obvious gap between the rocky twin Summit and South  tors. The going was steep but at only 354m it didn't take long before we were up and a quick scramble had us on a flat rock summit which gave great views of the surrounding land including Cock which was next on our list.
As we climbed back down the south east side of Hen shots could be heard in the distance probably marking the end of the line for either a box of clays or unfortunate flock of pheasant, although with such clear weather it could have been either round the corner or several miles away. Starting the ascent of Cock the ground became boggy underfoot and the going ever steeper leaving us breathless and glad to see the summit where we were intending a stop for lunch.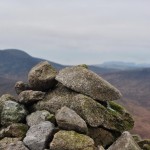 After briefly taking in the excellent views of Spelga we dropped a few feet from the summit cairn for shelter, donned some warmer gear and started lunch. Jonny and Kat were testing Wayfarer meals cooked on a Trangia ahead of Jonnys solo TGO trip and I was preparing the hikers staple – Super Noodles. Santa and his elves had been kind enough to leave a Primus Gravity II stove and Tibetan titanium pot set in my stocking so I was pleased to give it a first outing. Thirty minutes later with lunch finished and coffee on the go fingers were starting to ice up so we quit the customary post meal gear chat, packed away our stuff and made for Cocks second 505m peak. Without pausing for breath the second summit passed by, as did the short drop to the saddle and the ascent up the side of 444m Slievenamiskan where as since we left the Ulster Way, we still had no path to follow and had to half walk, half scramble back down its steep slopes to another bridge across the Bann. Once across we climbed back up to the road for the last stretch to the car.
It was a fine hike in decent weather and not too long at 4.5hours, 3.7miles and 530m ascent while still taking in a respectable 3 peaks with a decent stop for lunch plus as a bonus we spotted plenty of potential future camping and bivvying spots. Any hike in the Mourne Mountains is always welcome but being able to tick off a few as yet unclimbed peaks is always special.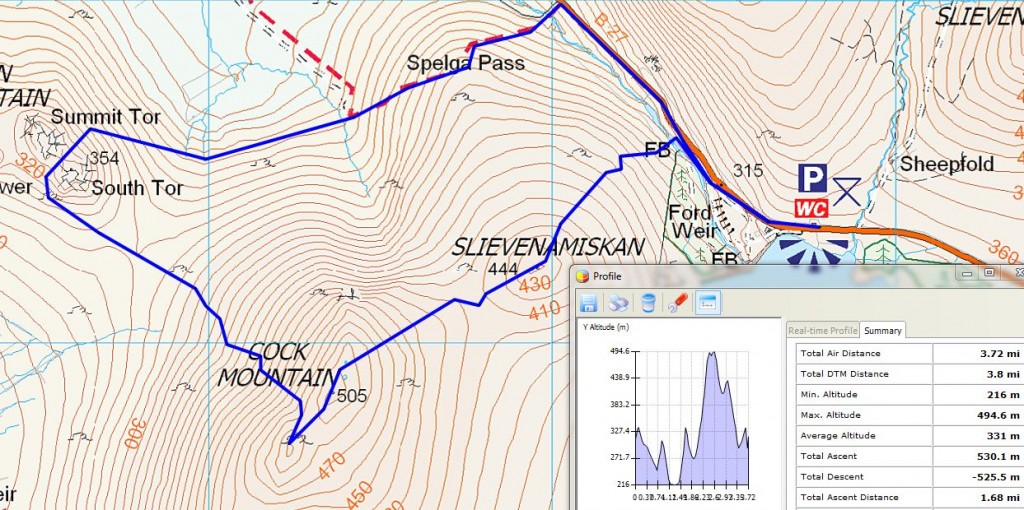 (If you want to see a car rolling up the "Magic hill" at Spelga click here)