The last couple of years have been very lazy. My plans for all sorts of exciting camps and hikes have mostly been substituted with lazy nights around the fire cooking legs of lamb and swinging gently in hammocks. I was determined that 2014 would be a bit more adventurous and the Bullseye Bivvy Mark 2 at the turn of the year was a good start. I've been meaning to summit camp all the "Sevens" but only made it to Slieve Bearnagh, Slieve Meelmore, Slieve Commedagh and Slieve Binnian to date. Slieve Donard sounded like quite an ask best left for last leaving Slieve Meelbeg and Slievelamagan. Slieve Lamagan's meaning of "by hands and feet" gives a pointer to how steep it is but still, being handy to our current favored stomping ground of the Annalong Valley we decided it was the one to go for.
We arrived at our starting point at Carrick Little on a sunny spring Saturday afternoon leaving us plenty of time to wander up the Annalong Valley. After being briefly tempted by a comfortable night in Annalong Wood we crossed the numerous unnamed streams on their way to the Annalong River which in winter are all but impassable but at this time of year are merely a trickle. Pausing for a deserved rest and a coffee by Blue Lough the wind was mighty and knowing that Lamagan was very exposed we started to wonder if the summit might ultimately not be suitable for tents. I'd been across Lamagan on two occasions doing Binnian / Lamagan / Cove / Beg but never reconnoitered for camp spots so it was left to chance as to whether the top would have shelter and ground suitable for tent pegs. Not that it really mattered, if the peak wasn't appropriate for an overnight stay then we could drop back to the valley on the other side but that would mean no recognition for a sevens summit camp and we'd have to come back.
We packed up the stoves and cups, filled our water containers and continued around the Blue Lough following the path rising upwards. Lamagan is very steep and although the map shows a path to the summit, once we were partway there the track seemed to disappear so ultimately we just made a beeline for the top. We stopped for a breather more times than I'd like to admit as it really was hard going but it wasn't long before the summit cairn appeared in the distance and we gladly dropped our packs safe in the knowledge we were done.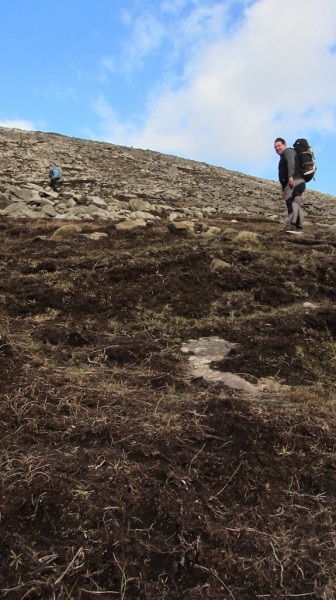 The summit was plenty breezy and didn't have much in the way of flat ground to pitch a tent so we dropped a few meters off the other side and the wind seemed to magically disappear. It took a while to find a good place for two tents and a bivvy – there was plenty of space but being Lamagan, not much of it was flat. Eventually 3 pitches were picked and we quickly got tents up as the sun dipped behind the mountain. Hunger had set in so we broke out the stoves and cooked a lazy dinner, then went for a wander down the north side of the mountain for a bit of an explore.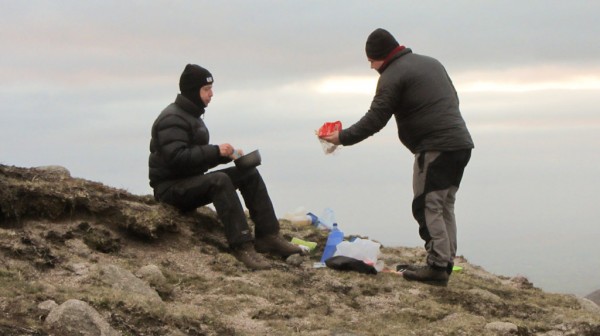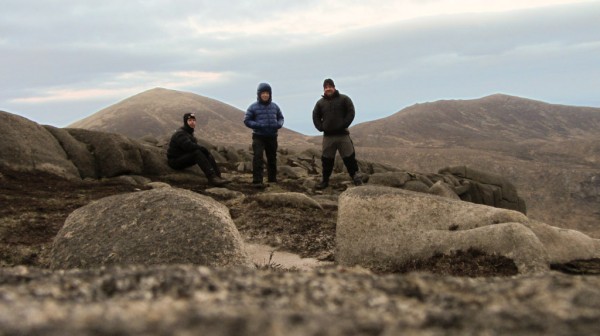 As soon as we were a few minutes down the mountain a wind appeared that was strong enough to make it hard to stand straight. Where we had pitched was calm and mild so it was surprising that a few dozen meters down slope the weather was wild. We paused to take a few pictures but it was too cold to hang about and we hotfooted it back up the mountain to the tents and kept our fingers crossed that the low winds at our campsite would persist.
As darkness fell we lit a couple of firelogs and settled down for a chat over a few glasses of wine. Later as it got colder we cooked bannock crepes which were just the tasty ticket and around 11pm we headed for bed. I had only been bivvying or hammocking for the last year or two so my Vaude Taurus Ultralight looked very inviting, especially since I would have space to undress and get into the sleeping bag without the gymnastics that a hammock or bivvy bag usually demands.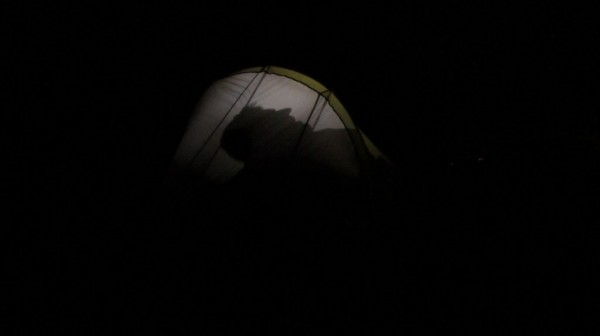 As the night became progressively colder I was comfy in my Alpkit Pipedream down sleeping bag and it was a welcome change to be in a tent and out of the breeze, something I'll be repeating more often. Around 9ish we rose to another bright clear day. It had rained briefly overnight but was mild and dry and looked like it would stay that way. After a round of bacon rolls for breakfast we packed up the camp and prepared to leave. LandyLiam was on his way up to see us but still a distance from the summit, we didn't want to go back the way we came so we gave him a call and arranged for him to contour the mountain to meet at the bottom of the saddle between Lamagan and Cove. It didn't take us long getting down and we could soon see Liam jogging toward us. Since it was so close we took a detour to Cove Cave where Liam clambered into the upper chamber. The rest of us climbed into the lower chamber but weren't quite game enough to go up a level and decided to leave the cave antics for another day.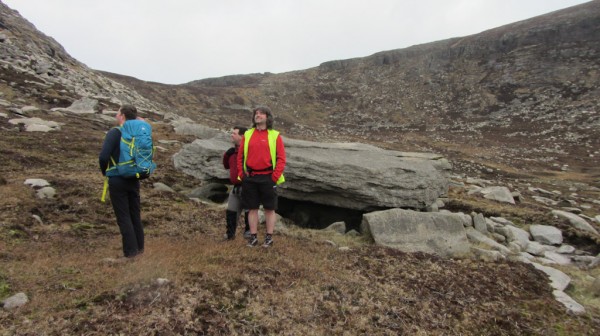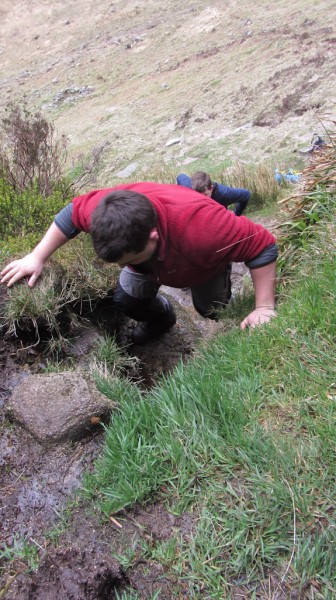 The trek back was uneventful and plenty of walkers passed us heading the other direction beginning a day in the hills, but we were tired and glad to see the car and doubly so to see the sofa!
Gear / Misc Notes
Here are a few random thoughts from the trip.
Tent : Vaude Taurus Ultralight: I've not used this tent many times and it is a real cracker. Plenty of rolling around room for one (but would be tight for two), just enough porch for the rucksack and just enough headroom for trouserwork! Plus it only weighs ~1.5kg.
Stove : Vango Compact : Perfectly usable stove for simple cooking, difficult in windy conditions but it was Lamagan, not the moon, I just moved to shelter.
Bannock : 3 parts self raising flour, 2 parts skimmed milk powder, add sugar to taste. Thicken with water to desired consistency – thick can be wrapped around a stick and cooked over an open flame, thin can be fried like a pancake. We did ours super thin and just mixed it in a non-stick pan with a spork. Tastes great and is a nice warm snack. It takes a good bit of water though, we  cooked a few too many and ran out of water for the morning.
The Route to Slievelamagan from Carrick Little
Distance : 3 miles
Ascent : 483m
Starting at the gate at the top of Carrick Little Lane (which is off the Head Road) follow the very obvious track up the Annalong Valley with Slieve Binnian on the left and Annalong Wood on the right. After you have passed the end of Annalong Wood the track will split left and right, keep to the left track and head towards Blue Lough. Passing Blue Lough on the right continue on the path until you meet the track coming off Slieve Binnian and leading up Lamagan. Turn right onto it and continue up Slievelamagan stopping occasionally when you can see stars and can't breathe, you'll know you're at the top when you see the summit cairn.