Ever since I got back into this camping and hiking malarky I've had a hankering to sort a cooking system where rather than putting pots and pans directly on the fire, we could suspend them over it. We have had lots of success suspending legs of lamb etc but it's not quite the same as a proper tripod system. So when our Ham Hock Hammock Camp was suggested it seemed the perfect excuse to invest in a Dutch Oven.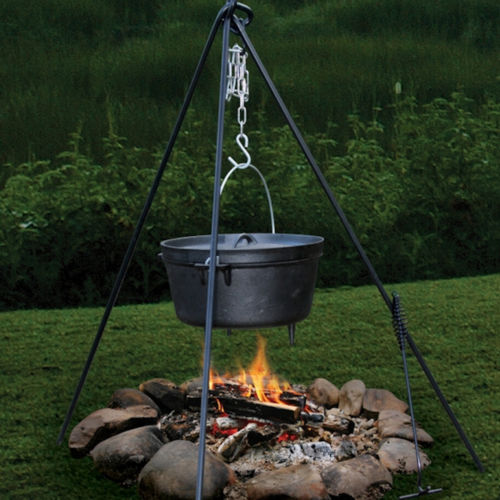 A Dutch Oven means a number of different things to a number of different people. The Urban Dictionary has a definition that the tittering teenagers among you probably know but I'm talking about a thick walled pot with a tight fitting lid. UK locals would know them as a variation on a casserole dish. The principle is that they can have coals placed in a concave lid giving uniform heat throughout. This combined with a solid, heavy construction means they can be used for cooking a variety of foods not usually easily cooked on a campfire.
A stumbling block initially was that Dutch Ovens are pretty much unavailable in Northern Ireland. I couldn't find a single shop that sold them or that could order them in and most websites wouldn't deliver to Northern Ireland (despite listing "UK" as acceptable postage destinations). Eventually we located an eBay seller who happily shipped to our fair isle at no extra cost.
Before everyone starts planning a menu there is one small caveat. Weight. The Dutch Oven and lid are cast iron and the tripod is steel.
Dutch Oven (no lid) : 3,086g
Dutch Oven Lid : 1,814g
Dutch Oven Total : 4,900g
Tripod : 2,850g
Total : Dutch Oven + Lid + Tripod : 7,750g
So that's 7.75 kilograms. Needless to say, we'll not be carrying this up a mountain but for shorter trips on the flat or car camping it should be fine, 3 people carrying a part each means no-one's taking more than 3kg or so.
Once we've given it a spin I'll do a blog on how to choose, maintain and use a Dutch Oven. Watch this space with baited breath!
Next up – a Dixie Pot!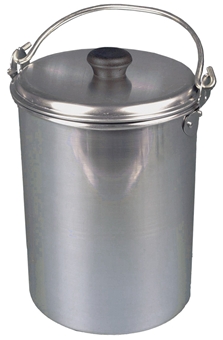 There's lots more information on this site if anyone wants to do some further reading. After the camp I'll report back!