Just before Christmas a friend and I set ourselves a new route some of it covering ground we had yet to set foot on.  Setting off from the car park at the end of Bann's Road on a chilly winter's day our circular route had Bann's Road as the centre point.
I just had my phone with me and I only learnt after this walk that these phones can actually focus on an image!
After a little while on Bann's Road and after the first style, we cut off right over the edge of Slievenagore, en route to Slievenaglogh, the first summit of the day.
Looking back down on the old quarry huts with the obvious quarry track which we followed to ascend Slievenaglogh.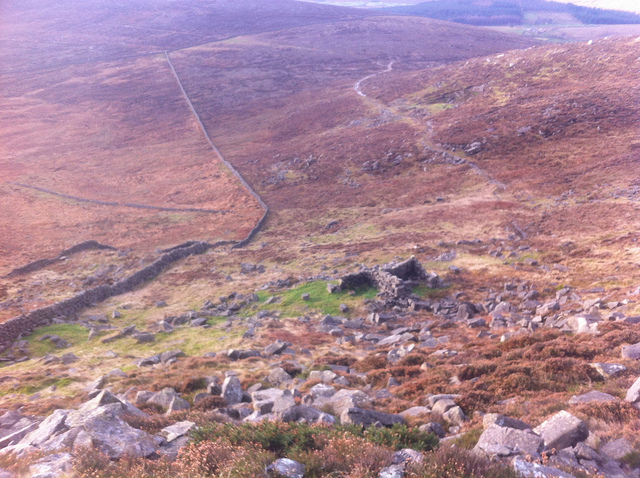 From the summit we headed towards the cliff edge on the eastern flank of Slievenaglogh.  There were many interesting rock stacks and features along the edge.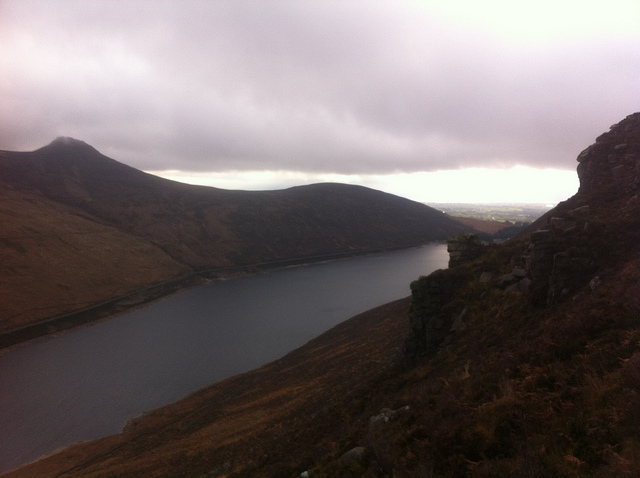 As we descended the side of the mountain the views up both the Silent Valley and Ben Crom Reservoirs were fantastic.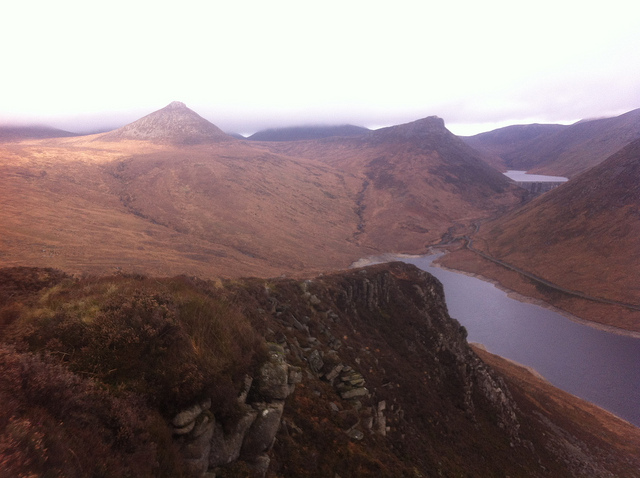 There were a few interesting gullies that deserve a bit of further investigation.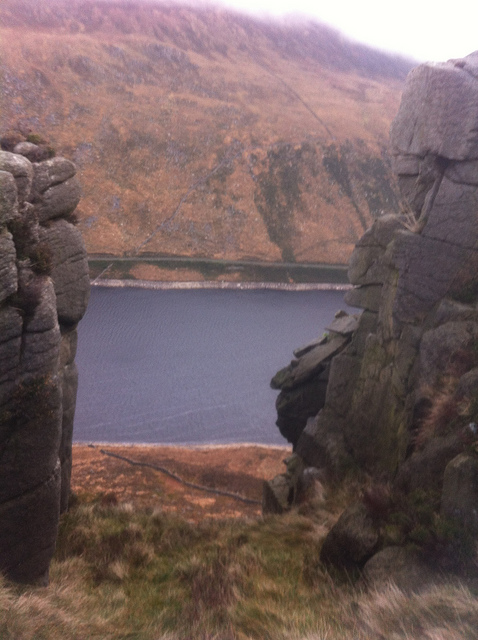 This staring match ended in stalemate!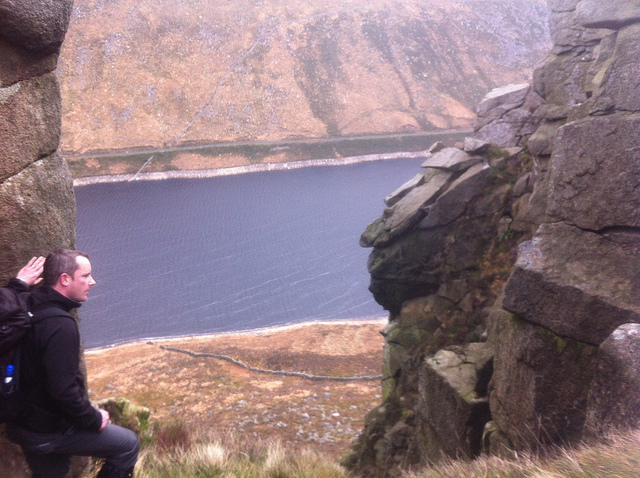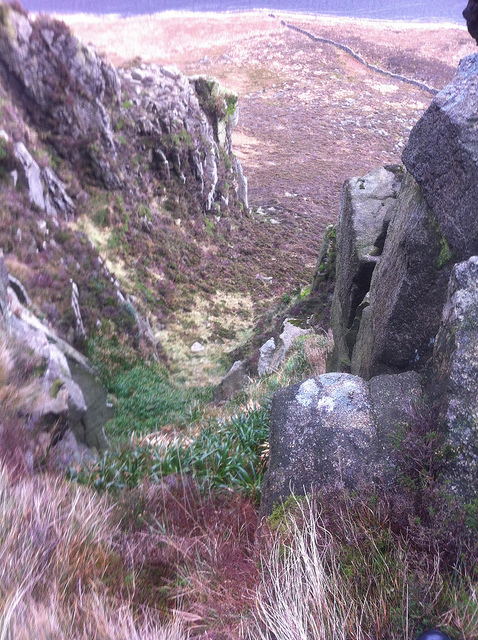 We descended right down to the Silent Valley Reservoir and crossed the Miner's Hole River following a track until we met the Shannagh River.  We then followed this river as it meandered up towards Lough Shannagh.  A decent track followed the right hand side of the river.
There were a few interesting waterfalls with some good drops.  It is difficult to get any idea of scale from photographs as to the height of waterfalls.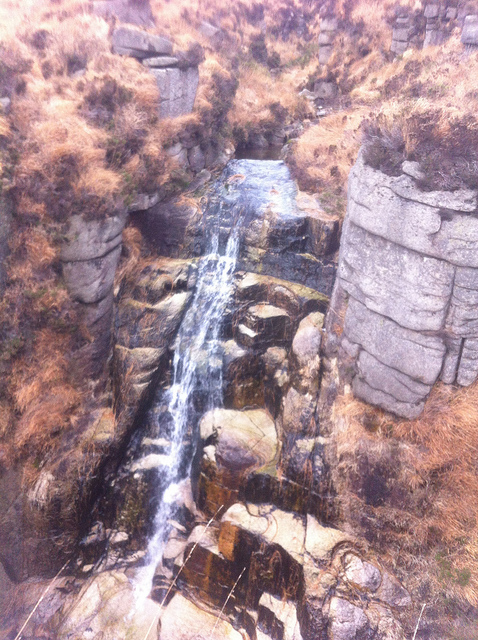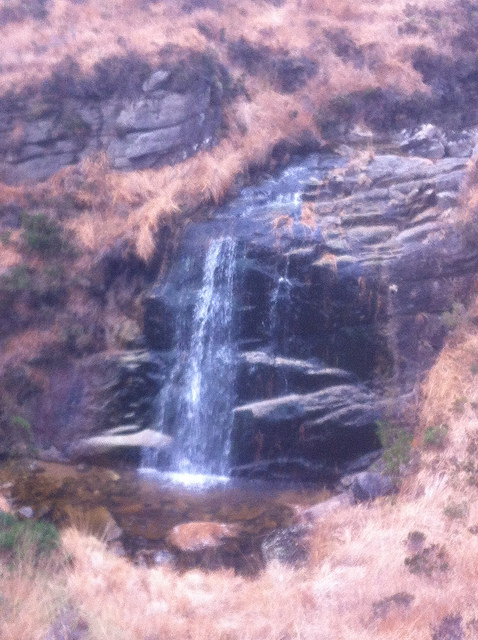 Once within reach, we cut off for the track that contours around the west side of Doan.
We then climbed up to the Carn Mountain/Slieve Loughshannagh col were unfortunately the cloud came in.  Staying high we followed the Mourne Wall up and over Carn Mountain before branching off towards Slieve Muck.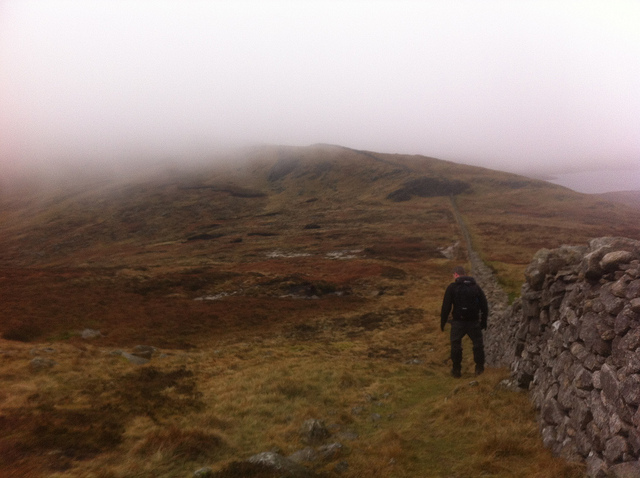 We followed the length of Slieve Muck from North to South.  On a better day this would have offered great views in all directions.  Today wasn't that day.
Looking back up at Slieve Muck it seems obvious that the path of least resistance would be to come down to the left or right.  We ended up scrambling down a route through the centre of the rocky section.  Just the thing for those tired legs!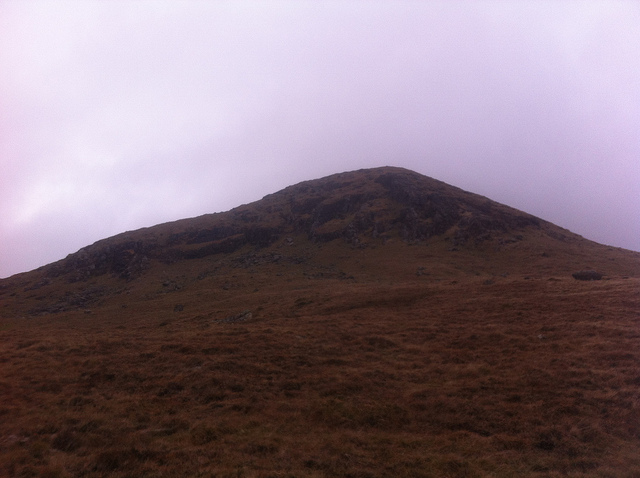 On the last section we made our way along the Moyad Road past Crocknafeola Wood, avoiding farm land south of Slieve Muck.
This was a fantastic walk with plenty of variation using paths and tracks, and a little bit of heather-bashing.  It was a stiff test of the legs at times but with all the rewards of dramatic airy cliff-top trails, the best of the high ground and the best of the water features.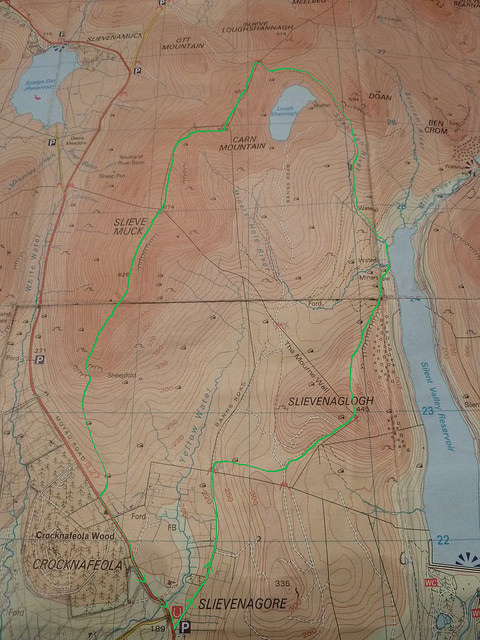 Original Post Here. With thanks to WhyRya.