There's been a lot of interest in the products being offered by our new NI-Wild Forum Sponsor "Tenth Wonder Hammocks" and rightly so!  I notice a few of our members have already bought some items, but are yet to put them to the test, so I thought I would lay my hands on some kit and put it through its paces.
The weather forecast for Tuesday evening, going into Wednesday morning, couldn't have been better for a Kit Test so I seized the opportunity.  It was to be dry and warm till 1am, which would give me time to get camp set up, something to eat and a good old play with the new gear before the torrential rain that was forecast arrived, by which time I planned to be sealed up and ready to tackle whatever mother nature could throw at me.


The items that I chose to test were the 2.8m version of the Camo Super XL 3.2m Hornet Hammock and the Sargasso Storm Tarpaulin 3.8m. From the minute Mr Postman delivered it, until I reluctantly had to pack it all away and go to work, I have been extremely impressed!
Here is a quick summary of each item:
Camo Super 2.8m Hornet Hammock
– Measurements: 320 cm long 180 cm wide
– 14m of rope supplied (6 in hammock with looped ends, +8m extra)
– Colour: camo with fine black mesh
– Hammock – 1280g including fitted webbing
– Extra rope & storm rings – 250g
– Support bars fitted for mosquito net
– Internal pocket
– Mozzie net adjusters inside
– Internal loop for your bag
– Hanging line within hammock end to end
– Double-layered bottom
– Double-headed zipped entrance
– Section underneath where a sleep mat can be inserted
– Storm rings provided to prevent water ingress to hammock
– Packed dimensions 42cm x 13cm
– Total weight of all items is approx 2kg (stuffsack is 50g)
Sargasso Storm Tarpaulin 3.8m
The Sargasso Storm Tarpaulin is sure to deliver what you need. Made from tough, hardwearing, waterproof nylon. The Sargasso Storm is designed to cover a hammock in the very worst conditions.
This large tarp works like any other tarpaulin but this is our Storm version and when conditions get really bad, you can create a virtual coccoon with it around your hammock. There is velcro at the ends of the tarp, which allows them to seal. Hexagonal cut with concave edges has increased tautness and prevents flapping in the wind. A larger tarp area means that it doesn't have to be suspended so close to the hammock. This allows you more of a sleeping outdoors feeling. We have put D rings on the underside of the tarp as attachment points for the mosquito net from your hammock. This tarpaulin comes with an impressive 20 metres of cord and a set of ground pegs.
All of you that know me will know that I am a 99% Bivvy-all-the-way kinda guy… unless I have the kids with me and I have to bring a tent.  Well, going forward I can see me becoming a 99% Hammock and Tarp-type-of-guy when I know I'm going to be camping were there will be somewhere that I can sling a hammock.
I had one of the comfiest nights sleeps that I have had in a long time and the Hammock and Tarp combination seems to provide a very good half-way house between tenting and bivvying.  It offers the feeling of being out in the open that you get with a Bivvy whilst offering all the protection from the elements that you would expect from a tent.
To test the new kit I chose a wooded wetland, in Killinchy Co. Down, as it would has a good source of water for cooking and drinking and more importantly an abundance of trees from which I could hang the hammock and tarp.
Below is the spot that I chose to set up camp as there were two good solid tree trunks available, which I tested by pulling and hauling on, and a good flat area for cooking that was well raised so that my cooking/sitting area would not get flooded if the expected rains arrived: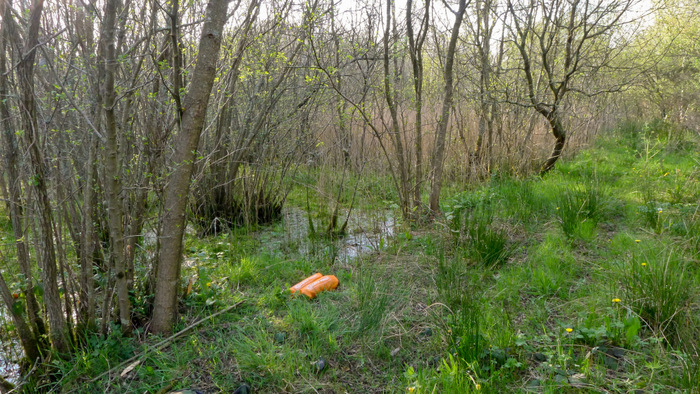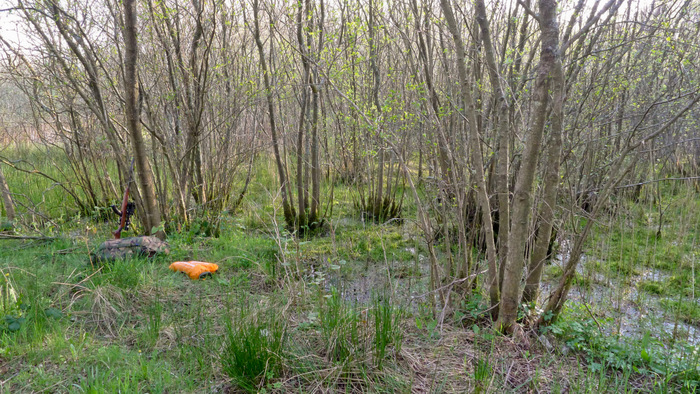 The Hammock and Tarp come in individual stuff sacks which you can see below.  I was travelling light so I did not need to compress them but I believe you could compact both items to at least half the size.  Even before compacting both items would easily fit in the side pockets of my ruck: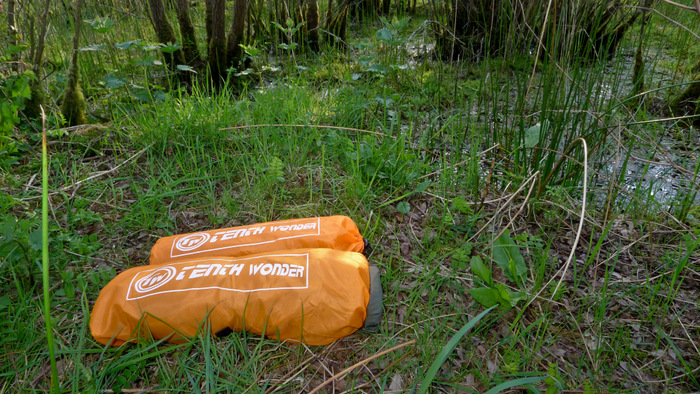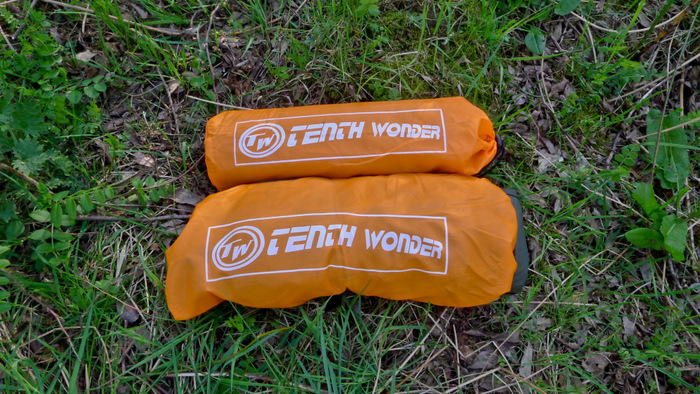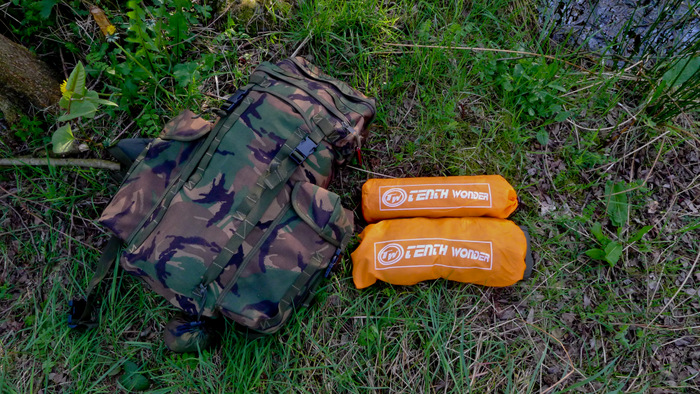 First time out of the bag the kit arrives very neatly packed with all accessories well contained.  Packing the hammock and Tarp away again the next morning was extremely easy… unlike some tents that arrive neatly packed but are impossible to get back the same way: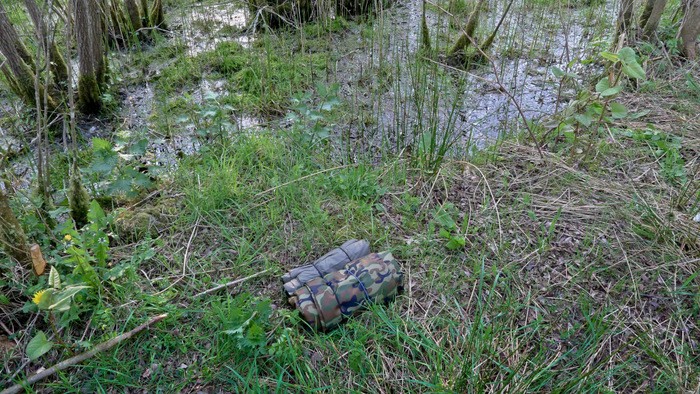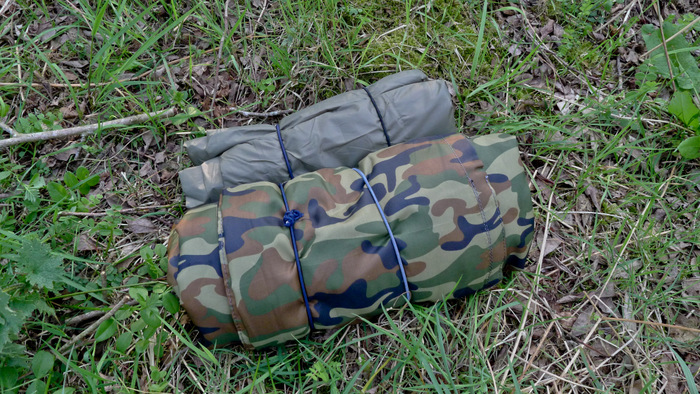 Hanging the tarp was very easy, although I would definitely suggest you watch Neil's Youtube video before setting out for the first time as there are loads of useful and simple tips available.  One thing to watch for is the distance you have available between the trees that you select.  The trees I picked were about 3.7 metres apart which was perfect for a 2.8 metre hammock but you will see later that it's not quite as perfect for a 3.8 metre tarp.  Forward planning is key.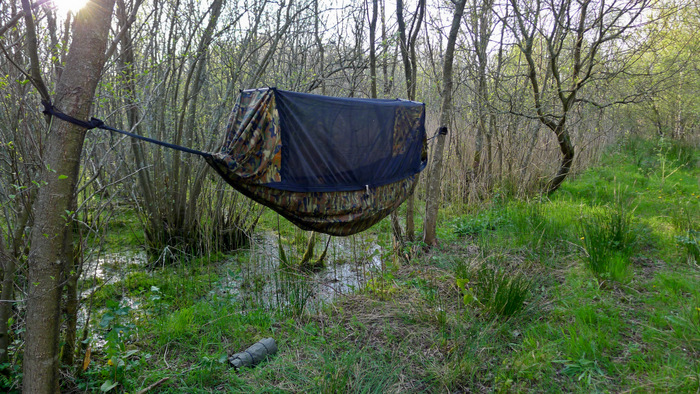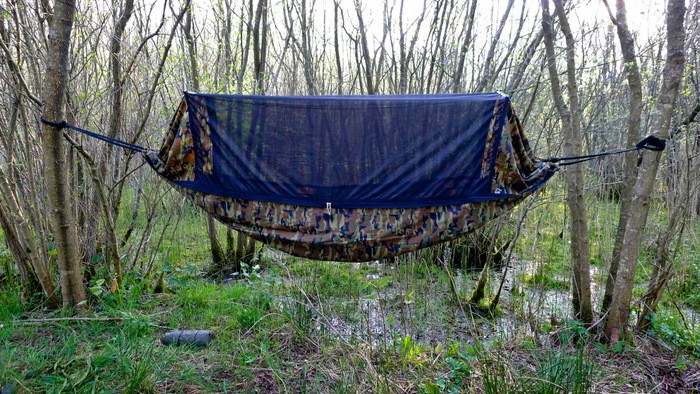 One of the features that I thought was ingenious is the addition of two light weight aluminium supports for the mosquito net.  These supports keep the mozzie net up out of the way and forms a crackin' cocoon for you to sit in.  The aluminium supports are attached to the trees with elasticated bungie so there is no messing about trying to set them to the correct height.  All you do is tie them up and they are fully self adjusting.
To test how well I had hung my first proper hammock I invited along my heaviest mate who weighs in at a whopping 18.5 stone.  As you can see the hammock didn't flinch, the self adjusting mossie net supports did their job and I was more than happy with the result.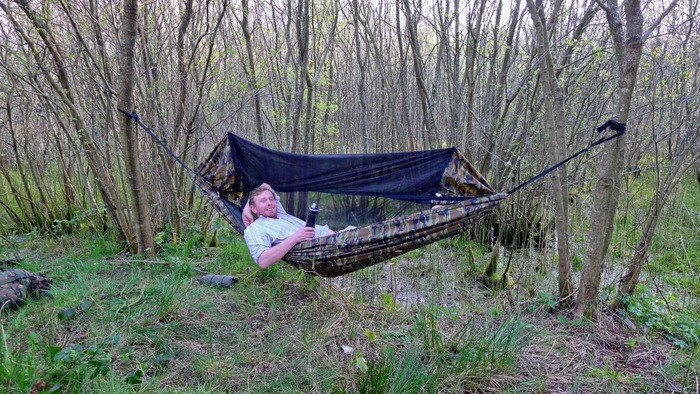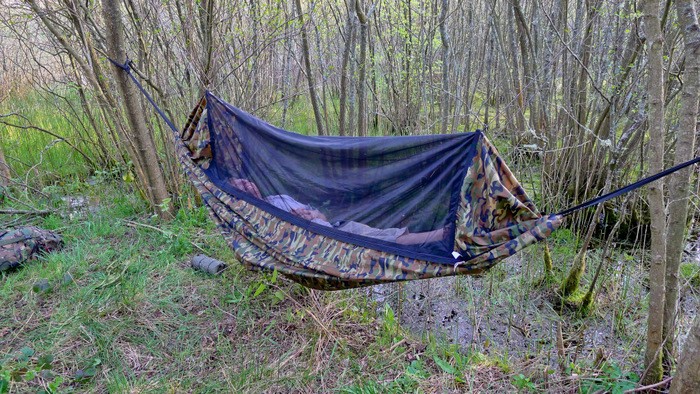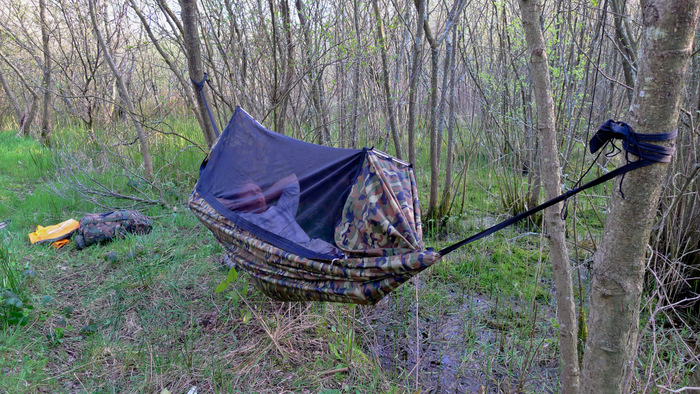 Next to be put up was the Tarp.  As I said above… be careful when selecting your hanging trees.  Unfortunately I didn't think this far ahead an my tarp was an inch longer that the distance between the two trees.  This meant that I was not going to be able to pull the tarp fully taught.  Please don't judge the tarp from my pictures as it looks a bit saggy but that was entirely may fault.  The tarp itself seems really durable and inspires confidence.  There are 6 reinforced loops for tying it down. One on each corner and one in the centre of each side.  It also comes with 4 sturdy plastic pegs which are designed to stay put in any weather conditions.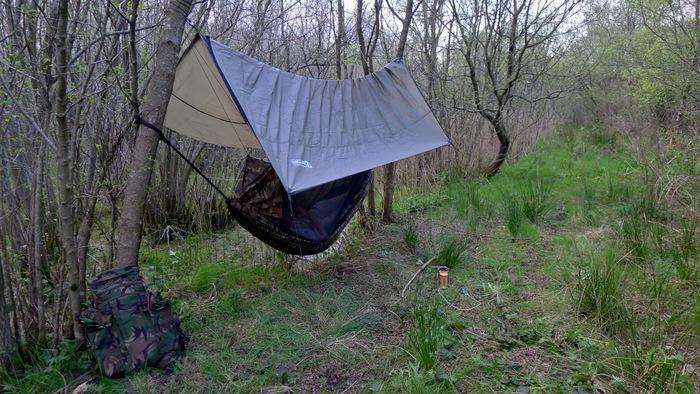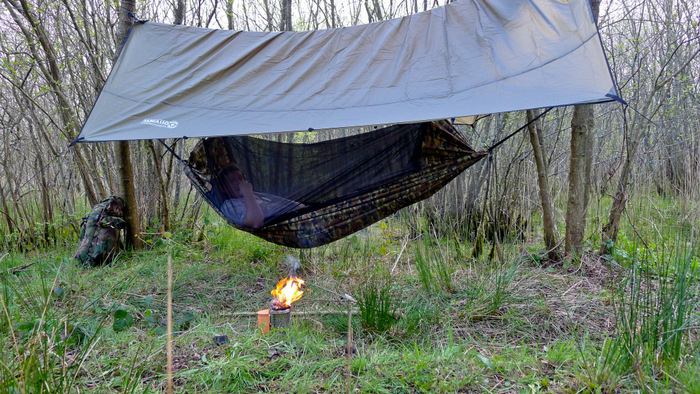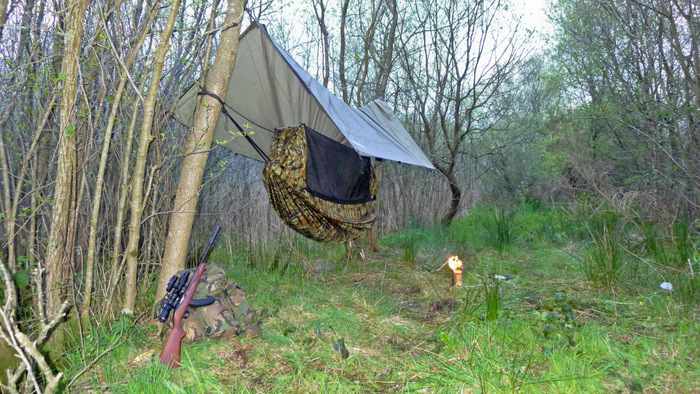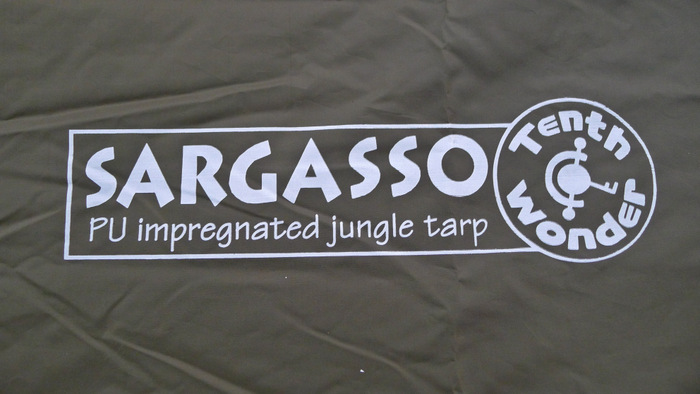 No Trip Report is complete without a photo of your dinner so I'll squeeze it in here.  It was two pepper pork chops, fried on my Biolite Stove which charged my phone at the same time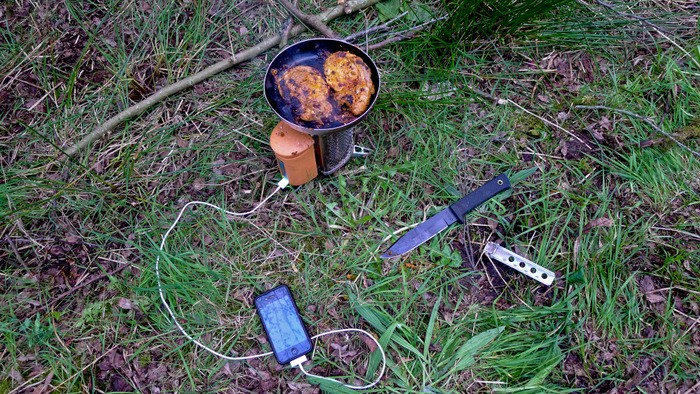 While waiting for the rain to arrive I just  pottered about camp, explored the area and took a few photos of what was going to be my bed for the night.  It really did look the business hanging there and I was really excited about climbing in and settling down for the night: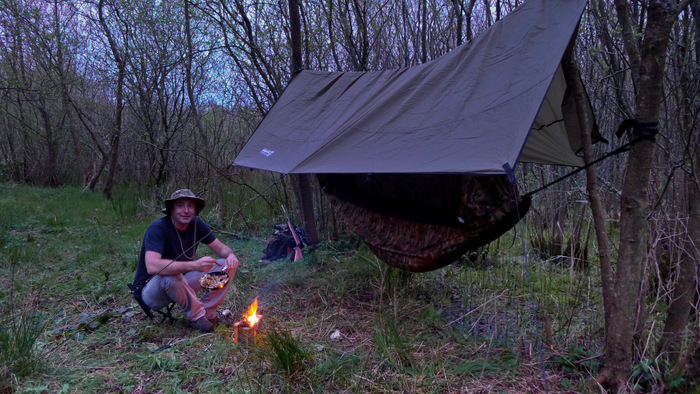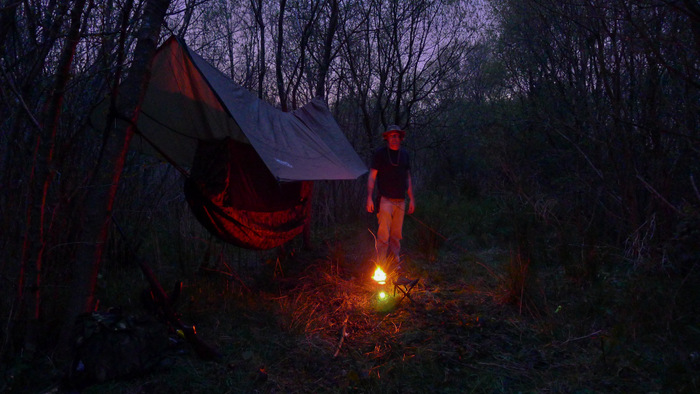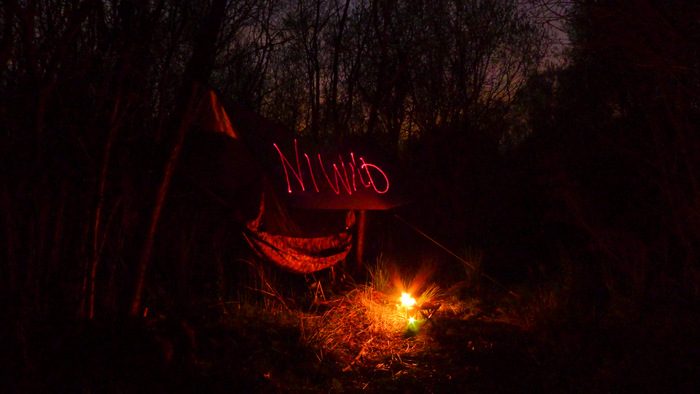 Inside the hammock was even better than I had expected.  I thought it would be cramped.  I imagined my feet would be squashed together and same with my shoulders but that was not the case at all.  It was just like being in a tent only suspended 3ft above the ground, out of harms way.  It was surprisingly sturdy and impossible to fall out of.  With the mosquito net suspended well above your head there was no issue with sitting fully upright if you wanted too.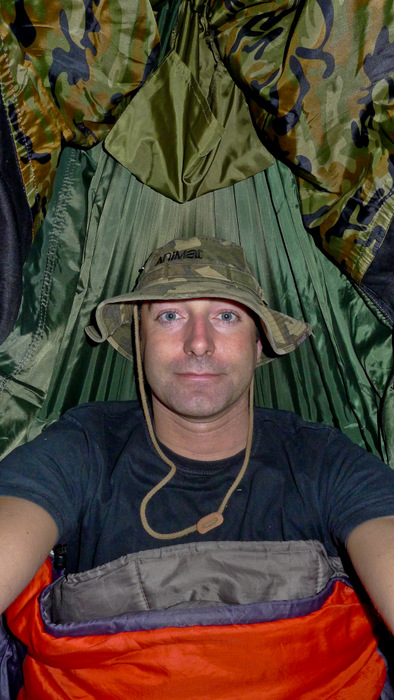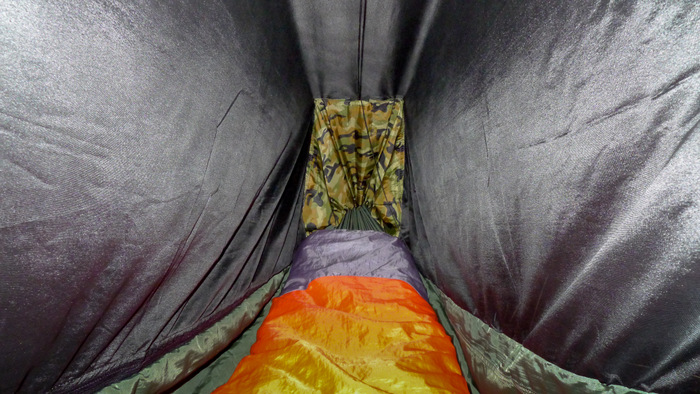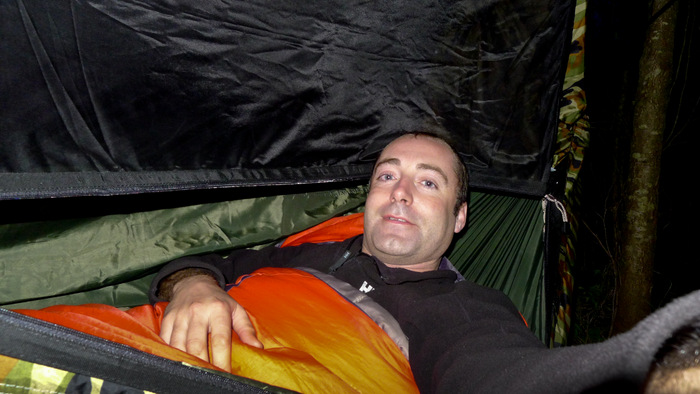 I should also mention that the mosquito net was very effective.  Although there were no actual mosquitoes there were lots and lots of hungry wee midges who thought their luck was in when I arrived for the night but they were no match for the net and they had to go and find some other mammal to munch on  

Inside the hammock there is a good size pocket, that you can see above my head, for keeping your phone and head torch etc in and there is a cord that runs the full length of the hammock which allows you to hang things up out of your way.
By 2am the forecast rain arrived and by 3am it was totally chucking it down.  Inside the Hammock, and under the tarp, I was bone dry, warm and very very comfortable.
Fortunately the rain was away by the time I had to get up and I was please to see that the whole set up had taken no hurt at all.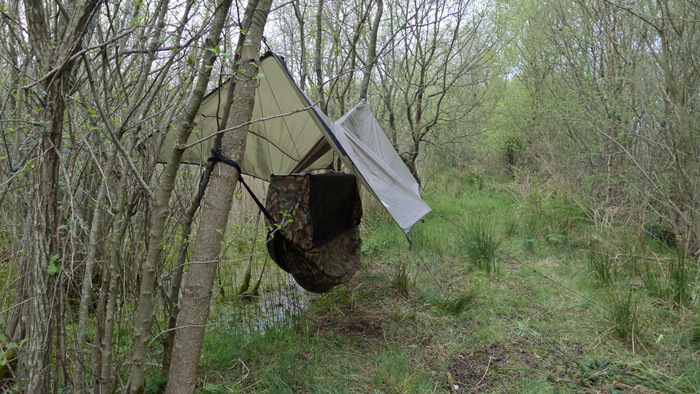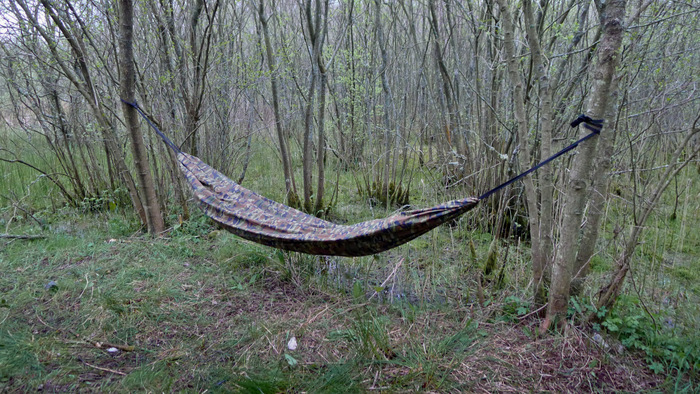 Final Verdict
I can't fault the Camo Super 2.8m Hornet Hammock or the Sargasso Storm 3.8m Tarpaulin in any way and I am very excited about getting another night out under the stars with them.
The build quality is excellent and it arrives with all the accessories you will need which facilitate a number of different set-ups.  It is obvious that a lot of thought and trials have been carried out before the final design went into production.  Things like internal pockets for your nik naks, hanging line, double zips, double layers, mosquito net supports etc are all were you want and need them to be.  Even with it being my first time in one it was like second nature finding my way around and get myself settled and all my kit stowed away.
Whether you've used a hammock before or you are a complete newbie you will not struggle setting one of these up and after your first overnight in one I believe you will think twice about taking a tent out again.  Pitching a tent in a forest can be a bit of a challenge sometimes due to tree roots, rocks, boggy ground and even broken glass.  With a hammock you do not have this problem.  No matter what condition the ground is in, as long as you have two sturdy trees, you will have a very comfy bed for the night.
With regards to cost, I think you'll find it difficult to grumble as you are getting an awful lot of kit for your money.  Throw in free delivery and a 10% discount for NI-Wild members and your on to a serious winner.
Looks wise… I love it!!! As a lot of you know I'm partial to a bit of camo effect but that's because I do a bit of hunting and that's my excuse and I'm sticking to it.  If camo isn't your thing then there are other colours available.
Other than that there's not much more I can say.  10 out of 10 in my opinion but feel free to email me on dowser@ni-wild.co.ukif there's anything I haven't covered that you would like to ask.
Happy Hammocking