A couple of months ago I sat down to watch an episode of James May's Man Lab.  I was initially impressed with the bit about the three pin plug.  I used to teach how to wire a plug as part of the GCSE Physics course before it seemed to slip away.  Soon it may become part of the mysteries of electrical items that can only be worked at by magicians (read electricians) and wizards (read engineers).  Then I began to become sceptical of James' program as it became sensational with the instructions on how to diffuse a World War II bomb.  What are the chances?  Then I reminded myself, the chances may not be as remote as you would think.
About a year and a half ago I was supervising a couple of groups of young people walking and camping in the Mourne Mountains.  It was a reasonably nice day after a previously bitterly cold day and a very wet rainy night.  The campers/hikers seemed to be in fairly high spirits and sat down to take a break and drink in the view of the mountains.  I was shuffling between groups that were spaced a bit apart in an attempt to encourage a little independent navigation.  The dangers were groups moving off in the wrong direction too quickly for me to catch up and herd them back.  To prevent this, another instructor moved parallel to us to catch them if they slipped down the valley.  As I made my way back towards the group that were relaxing, and I had my nerves tested as my heart skipped a beat at two grouse that exploded a couple of feet away from me.  I stopped and watched them arch away as the adrenaline peaked and then subsided.  I carried on.  Only a couple of paces away from the relaxing group one of them turned to me and held forward a two foot long World War II artillery shell and casually enquired, "Sir, what's this?"  Several thoughts ran through my head.  One was that I might not live long enough to think the next thought.  And the next thought was to thank God that I had made it as far as the second thought.  At this stage I calmly asked the pupil to gently put the item in question down.  I remember being most concerned with ensuring I did not alarm him and cause him to drop it.  Then I, in my most authoritative voice, commanded everybody to get up and move away as quickly and gently as possible.  This prompted the most comic of scenarios that may be typical of the Northern Irish attitude to life.  They were tired and exhausted from long walks, little sleep and overly heavy backpacks.  They just sat around and moaned, "What? Do we have to?"  I assured them that they had to.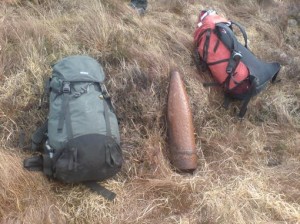 After moving a safe distance away I radioed the other instructor in full knowledge of his reaction.  He is a man who has roamed the Mournes for several decades.  His knowledge of the mountains and his experience I can only hope to come close to.  He was the one who told me all about the shrapnel that can be found in the Mournes and his stories and anecdotes have become my own to share with groups, the same stories told with enthusiasm year after year.  One of his life's ambitions was to find a complete artillery shell in the Mountains and not just the pieces of rusted twisted metal left behind.  Artillery shell finds have been rare occurrences that have gone down in whispered legends in the hills.  Someone knows someone, who knows someone, who found one many years ago.  One legend says that a bar at the foot of the Mournes had one sitting behind the bar, on a shelf, for years before someone thought it might not meet health and safety regulations. I radioed over to him and his reaction was expected, I had never seen him cross a valley so fast.
The story is that, during the Second World War, the American Navy used to sit off the coast in the Irish Sea and use the Mourne Mountains as target practice to sharpen their aim with long range artillery.  Specifically aiming their long guns at Slieve Lamagan. If you walk around the base of this mountain on the side that faces the seaward direction you can spot small bits of rusted iron that were once the casings of the artillery pieces.  Occasionally I have found larger pieces that retain the shape of the shell, pieces as much as a kilogram in weight.  In Bernard Davey's book about the Mournes he tells of how Slieve Lamagan's bare rocks are partially due to the shelling by the American ships.
Slieve Lamagan's bare rocks (far left)
As we stood and looked at the bomb (we took it in turns for fear of leaving the two groups without any instructor), we knew that it would be impossible to find again without an accurate location.  The other instructor had his GPS with him, a device that we both never enjoyed using as much as the art of map and compass.  We dusted it off and powered it up to mark a waypoint, but my trust in the technology was lacking.  I did not see why I should not take the opportunity to take three sightings off nearby mountain peaks widely spaced apart.
My wife had spent the same weekend a few miles away supervising other groups in the Mournes and later on, we got all the pupils on buses and on their way safely home. Then we made our way to the police station to show them the picture of the bomb. An hour and a half, and lots of phone calls later, my wife and I were ready to head back into the hills, this time with a police escort. We rode in their land rover as close as we could get and then began the hours of trekking to the old unexploded shell. When we got near, everyone but me sat down for a rest and a chat. I headed off with a GPS and a compass feeling very under pressure to find a rust coloured object on a vast rust coloured moor.
As I tried to relocate the explosive needle in a haystack I began to be glad that I took those bearings off the peaks when the GPS started to take me into an area away from what looked right. Again the pressure was mounting. I switched it off and put it in my pocket, it was time to go old school. Time to trust geometry and the ancient device that can be relied upon. I began to triangulate the bearings. After another 20 minutes it began to feel right, I recognised this. Then it began to feel wrong again and I thought of how embarrassing it would be to not be able to find it. All I had left was to find the point where the bearings crossed. I stopped at that point and put my bag down, it did not look right. I checked the bearings again, to me, it still did not look right. I turned slowly and scanned the ground; there was the bomb 15 meters away.
I waved my arms to draw them over. They were not even watching, just chatting and relaxing. Another minute of arm waving and someone saw me and they began to head towards me. I had time to see what the GPS said; it marked it to be 200 meters away. Apparently you need 5 or 6 satellite connections to get good accuracy and I don't think we had left it switched on long enough when we marked the spot.
It was shortly after that I had one of those surreal moments that sticks in the mind. We still had to get down off the mountains, we still had to get home and do our weekly Tesco shopping. The sun was blazing low and a cold wind had blown the clouds from the sky to leave a clear deep blue. My wife and I stood in the middle of the mountain, with the police beside us, around a bomb and I casually said, "Who's going to kick it first?" To my disappointment, no-one laughed.